Please note: This feature is in beta testing and is only available for very select users. You will not be able to use this feature on the normal Eventeny mobile application.
Printing tickets onsite has never been easier with Eventeny's mobile app! Connect a zebra printer to your mobile device, and then click to print. Follow along with the steps listed below, and you'll be printing like a pro in no time.
Before Opening the Eventeny Mobile App
Connect your Zebra printer to the same wi-fi that you are going to connect your mobile device to.
Connect your mobile device to the same wi-fi that the Zebra printer is connected to.
Update the Eventeny Mobile App. Check the App Store or Google Play Store to ensure the Eventeny Mobile App is up to date.
Getting Started
1. Open the Eventeny Mobile App and make sure you are logged in. You can find out if you are logged in by tapping the "Profile" icon.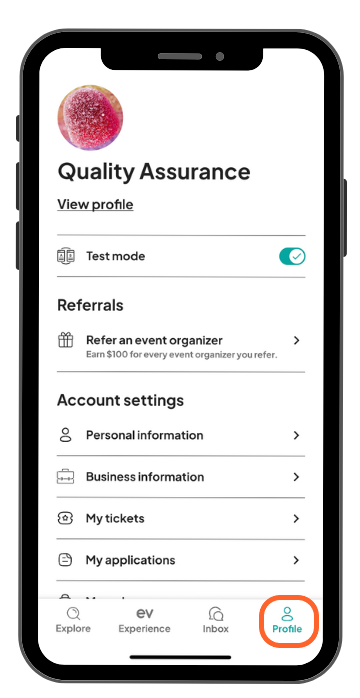 Note: If you have previously logged in with Facebook, Google, or other SSO method of signing in to Eventeny, you will need to log on to Eventeny.com and set a password in order to log in. SSO is not supported at this time. To learn how to reset your password, click this link: How to Update Your Eventeny Account Password.
2. Once you have logged in, select the event that you wish to print tickets on under the "Explore" icon and "My Events" tab.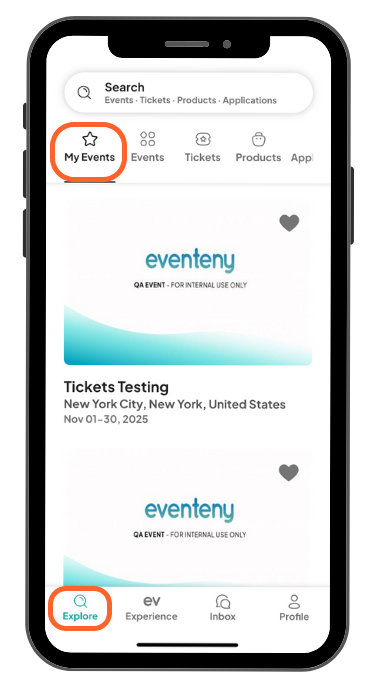 3. Tap "Manage Event."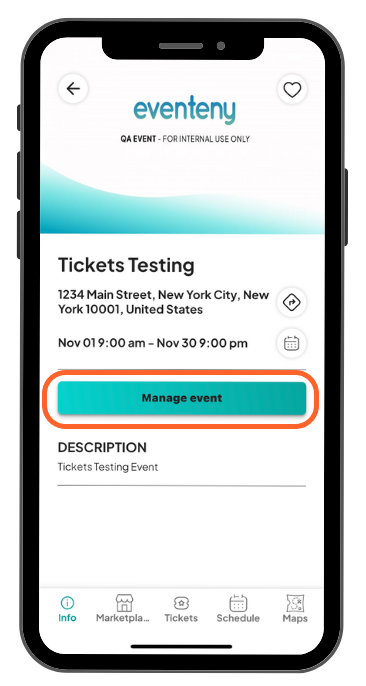 Connect Your Zebra Printer
1. Scroll to the bottom of the Manage Event screen and click "On-site Zebra printer setup".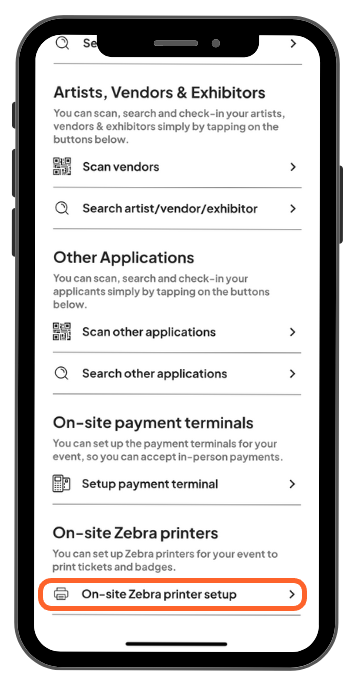 2. Select the printer that you wish to connect to. You will know the device is connected when the toggle on the right of the screen turns to a green bar with a white / green checked circle.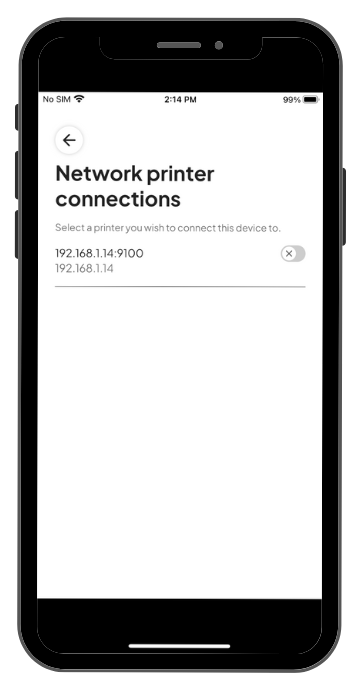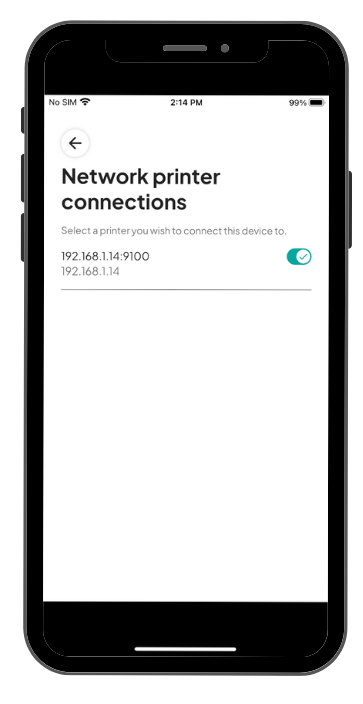 Note: If you do not see your Zebra printer listed, ensure that your zebra printer and your mobile device are on the same wi-fi network.
3. Click the back arrow to return to the Manage Event screen.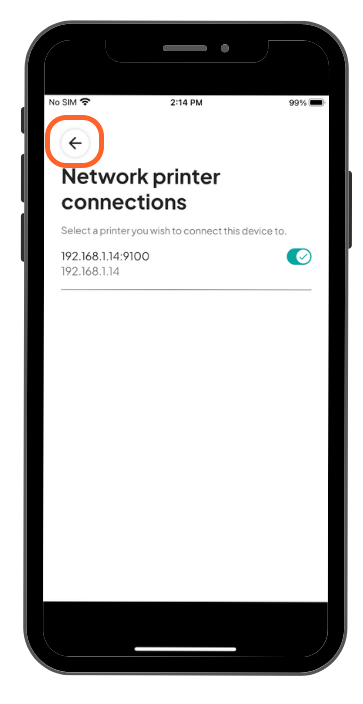 Print The Ticket
1. Scroll back up to the top of the Manage Event screen and click Scan Tickets.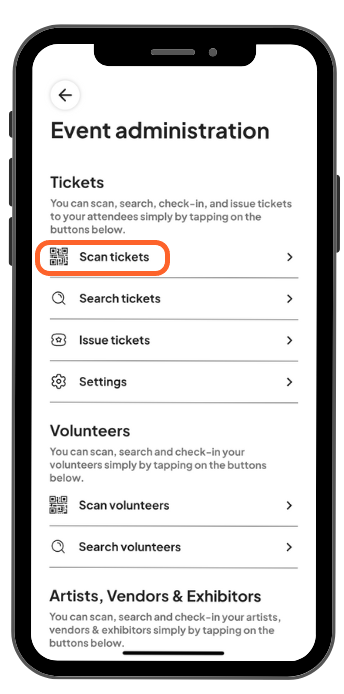 2. Scan the QR code of the ticket that you wish to print.
3. Once the ticket loads tap print.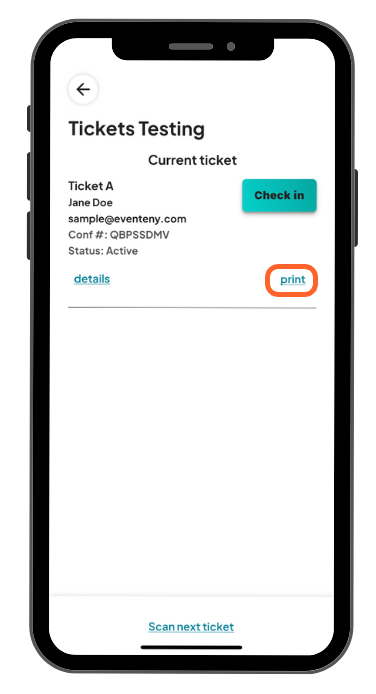 4. If there are other tickets in the same order that you need to print, scroll down to the next ticket in the order and click print.
5. To continue scanning tickets in succession, you can click "Scan next" on the bottom footer of the screen to start scanning again.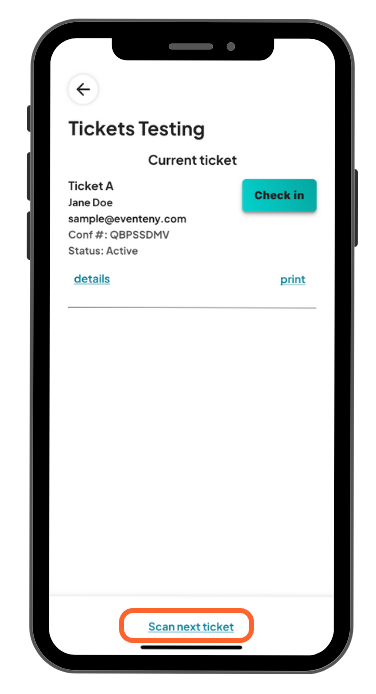 Think this article can be improved or have an idea for a new one? We want to know! Please feel free to leave a comment at the bottom of this page or contact Eventeny customer support with your great ideas!