Your event schedule on Eventeny allows you to schedule activities within your event for your vendors, sponsors, and attendees to see and participate in. It also serves as a great organizational tool for you as an event organizer, so you can know exactly what is happening at your event and when. This master guide will show you how to use this super cool feature!
To learn more about a specific step, click the highlighted subtitles to be taken to the corresponding help article!
Select Your Event
1. Make sure you are logged in to Eventeny.
2. At the top of the home page, select the event you want to create a schedule for under the "My Events" tab. If you haven't created an event yet, learn how to here.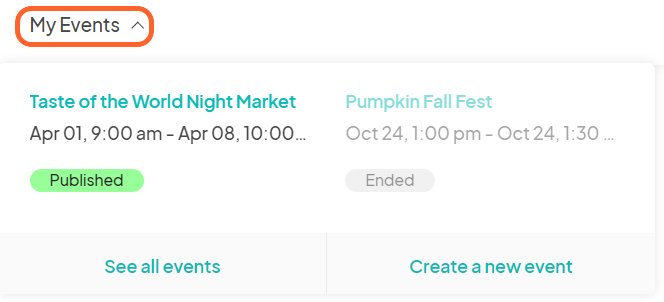 3. When you arrive at your event dashboard, select "Schedule" under the "Home" tab on the left sidebar.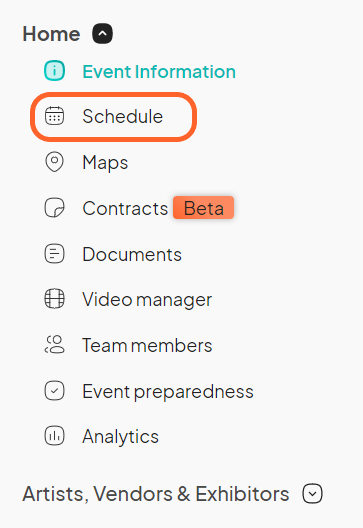 Viewing the Scheduling Feature
1. This is what the schedule tab looks like. Currently, it is in "list" mode. You can also view it in "day" mode, if you prefer. As you can see, everything can be made to be color coded, tagged, and categorized. We will cover how to do that next.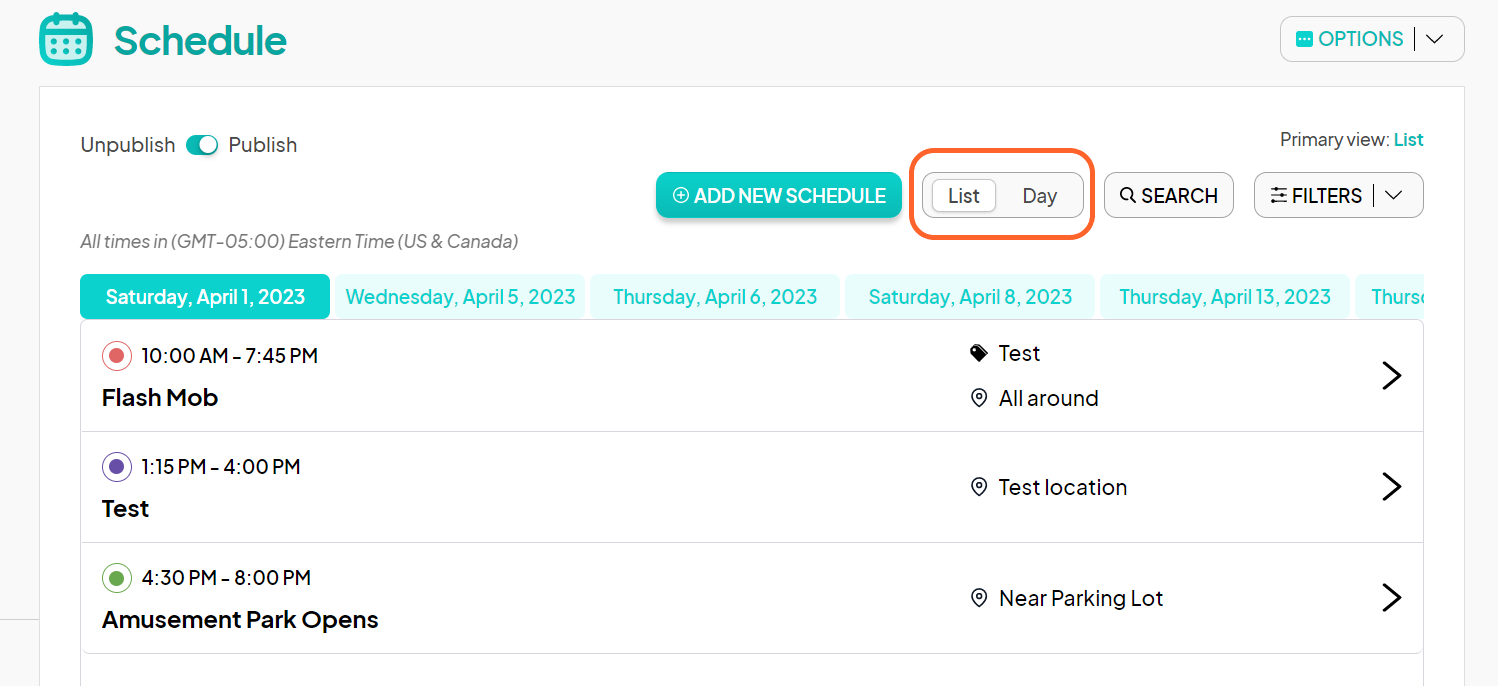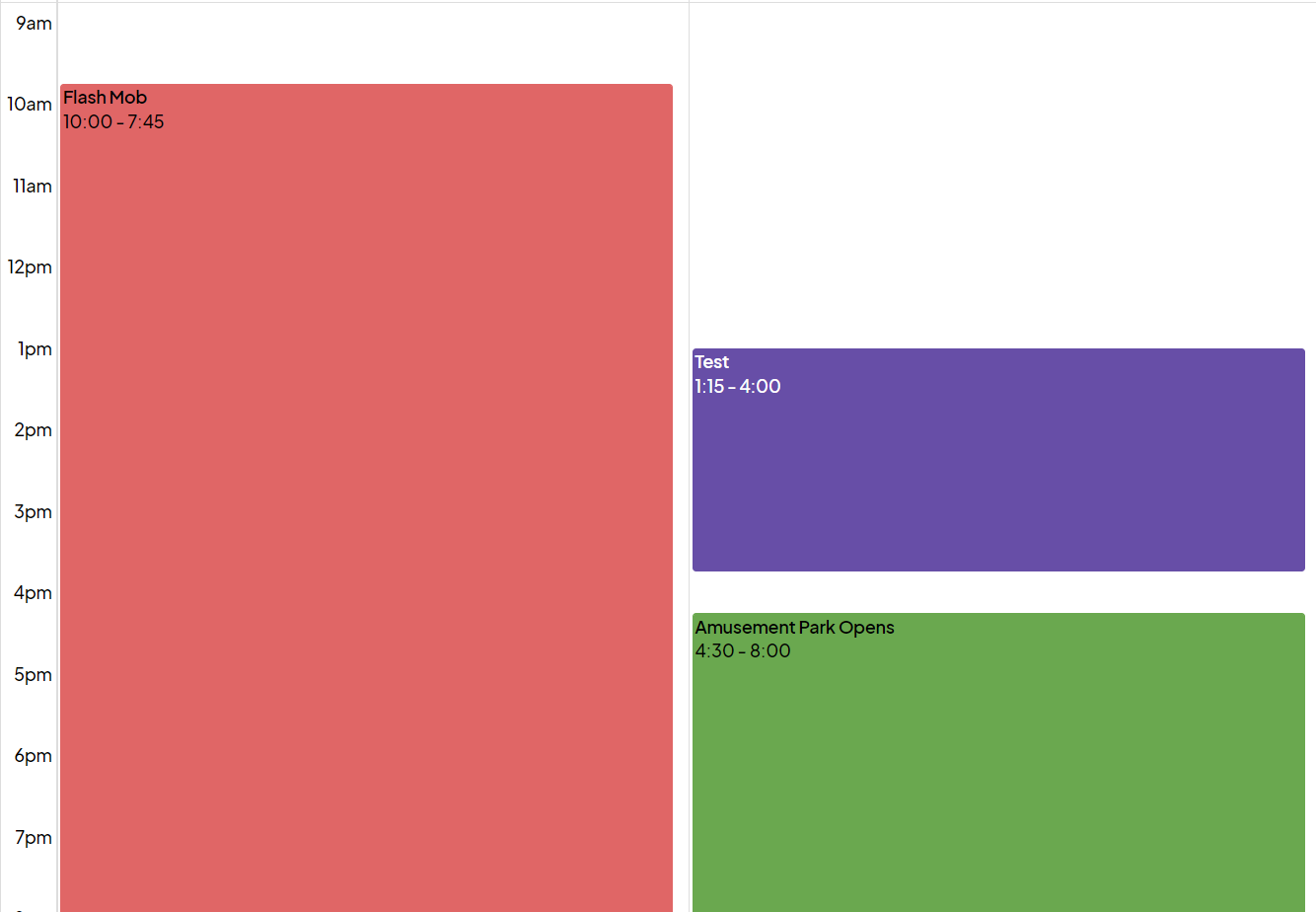 How to Create a New Schedule
1. To create a new schedule, select the blue + ADD NEW SCHEDULE button at the top.

2. This is where you will customize your event activities. You can title it, described it, set the start and end times, select a cover photo and much more!
The "Status" tab indicates if you want the activity to be active, updated, cancelled, or hidden. This is mostly for you and your attendees, so you both can know what the status of each activity is.
A "Track" is another word for category when creating a schedule. For example, if you have entertainment and food related events, you can categorize them using tracks. You can create as many tracks as you want by clicking the blue + New button.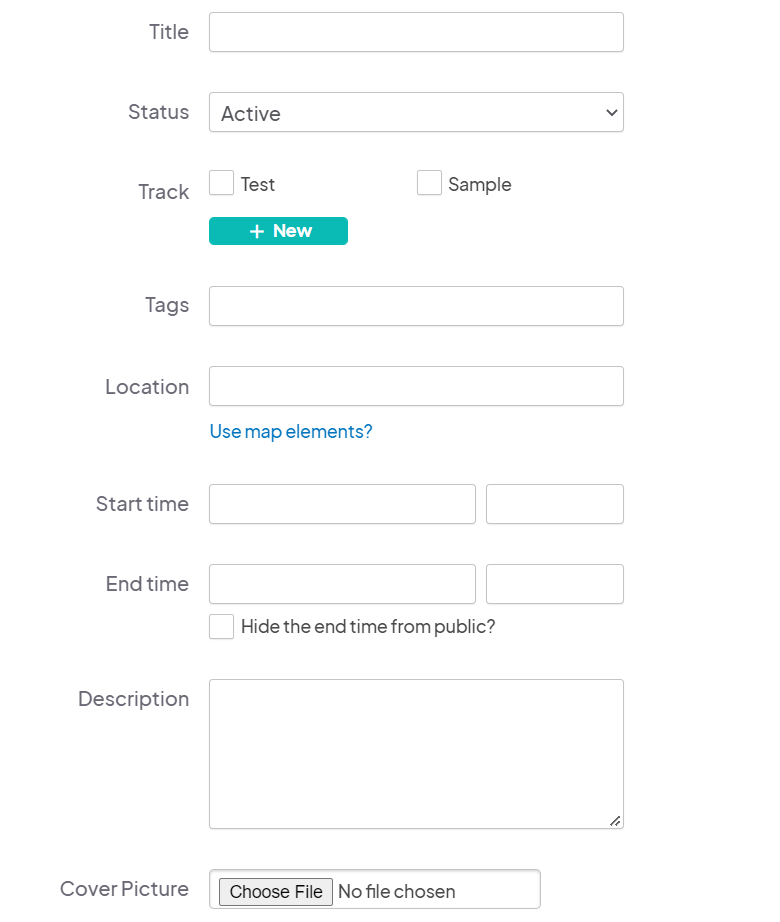 In addition to categorizing your activities using tracks, you can also color code them using "Background/text color." A preview of what the activity will look like on the schedule will appear directly below those two tabs.
"Video type" is for event organizers who wish to leave a link to a livestream for their event. Whether you are hosting your event online, or want to document the in-person event, Eventeny supports a variety of platforms including YouTube, Facebook, and livestreaming platforms like Twitch and even Zoom, among others!
When it is time for the event to happen, attendees can click your event schedule, and then click to go to the livestream of the event.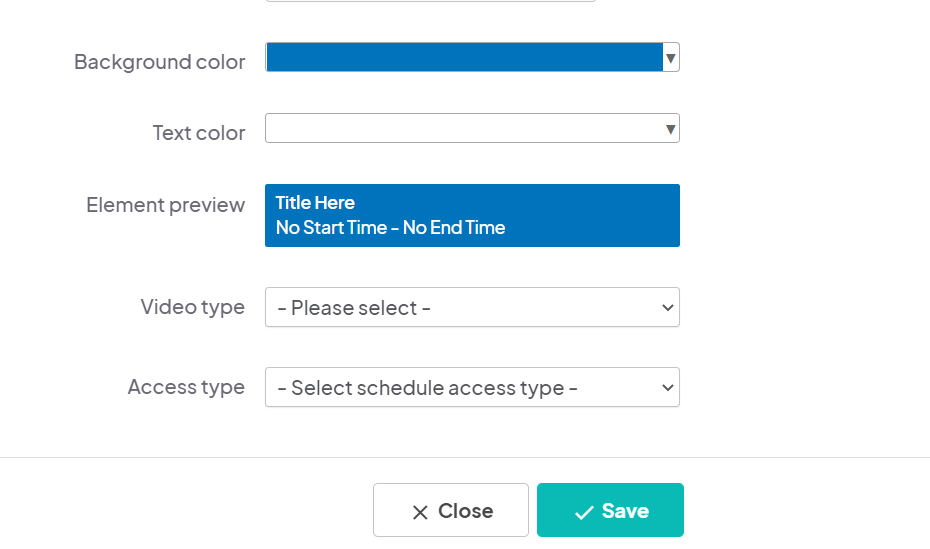 Last, but not least, we have "Access type." For this tab, you first have to select if you want this activity viewable to the public or if you want to make it private. If you choose to make it private, you will be presented with one last tab for you to indicate who exactly can access this event.
The only option is "Access via ticket." To learn more about what this means, check out this help article.

How to Edit a Scheduled Activity
1. Editing a Scheduled Activity is easy on Eventeny. Simply click on the activity you wish to edit. Although this photo shows "day" mode, this method applies to "list" mode as well.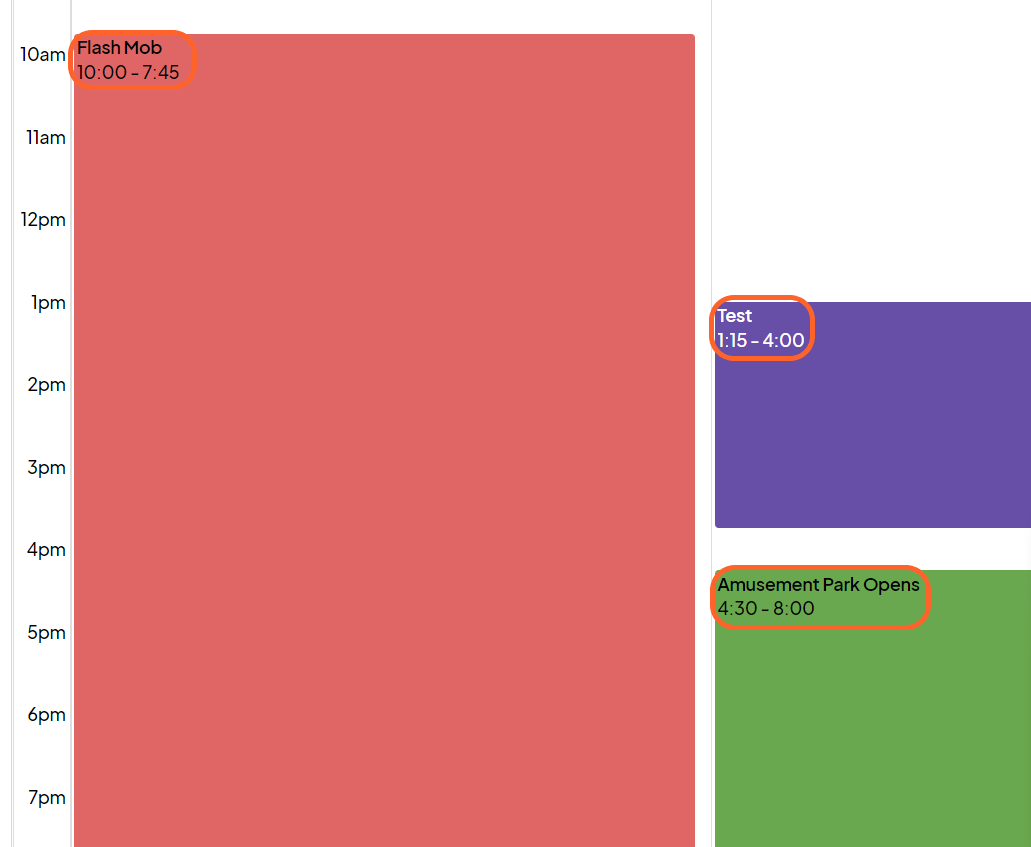 2. A screen like the one shown below should appear to the right of your screen. Click ✎ EDIT SCHEDULE at the top.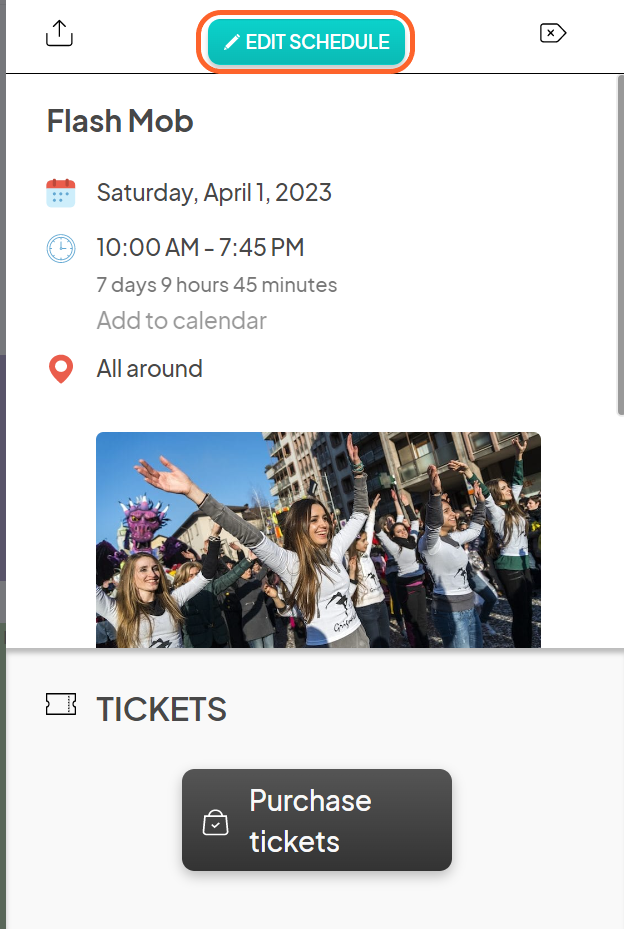 3. The same window as when you first created the scheduled activity will appear. Now you can edit your scheduled activity as you see fit. When you are finished, just click the blue ✔ Save button.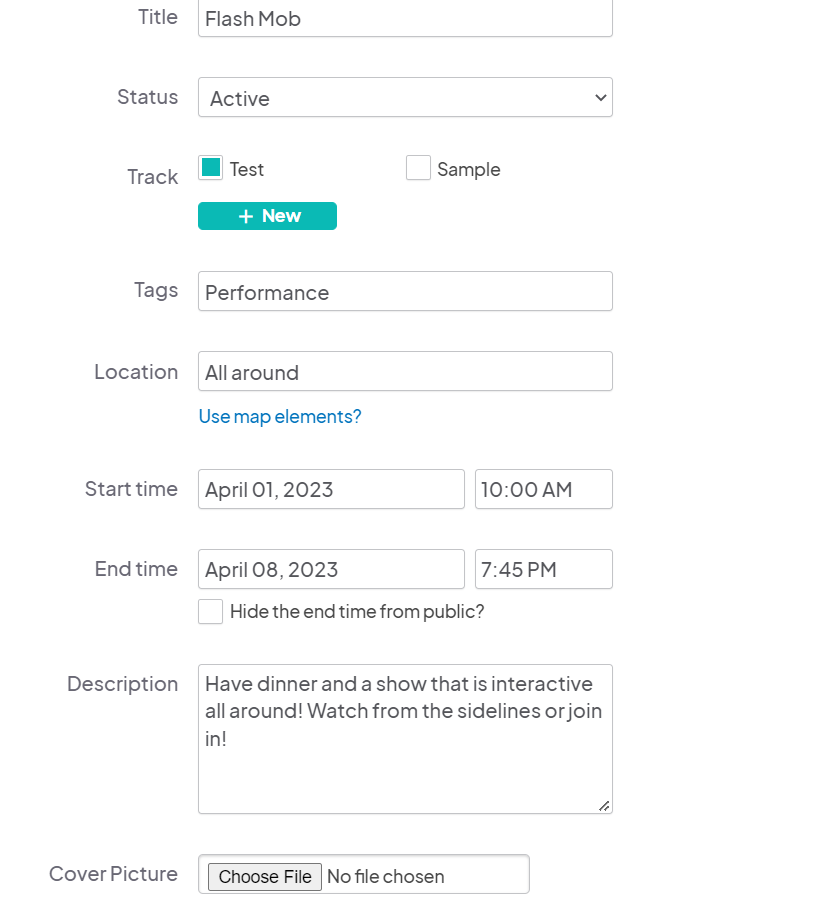 Toggling Between Event Days
1. If you have a multiple day event, the scheduling feature will be especially useful to you. Right at the top of the schedule, you will find a horizontal list of all the days you have an activity scheduled throughout your event. This allows for easy toggling between days.

Filtering Your Schedule
1. At the top right corner of the scheduling feature, you can filter out your schedule by clicking the drop-down arrow of the FILTERS button.
Here you can sort by tracks, tags, locations, or access settings, all based on what you implemented. At the bottom, you can even filter by activity status using the check boxes.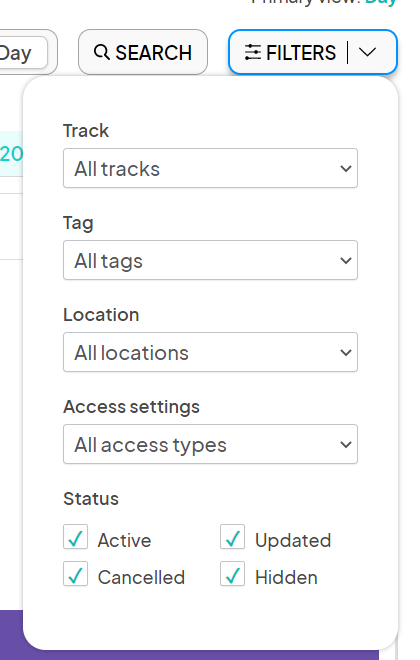 Other Schedule Feature Options
1. Perhaps the most robust attribute of the scheduling feature is the Options dropdown. If you prefer to create or edit your schedule in an Excel spreadsheet before uploading it to the Eventeny schedule, there is an option for that!
When you click +Add bulk schedule or ✎ Bulk edit schedule, you can add your own schedule or take the one you already created in Eventeny into an Excel spreadsheet for tweaking before uploading back into Eventeny.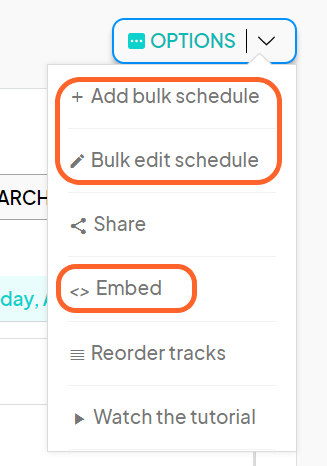 2. Have your own website? You can Embed the schedule you created in Eventeny directly to it! Just click <> Embed and copy the schedule code.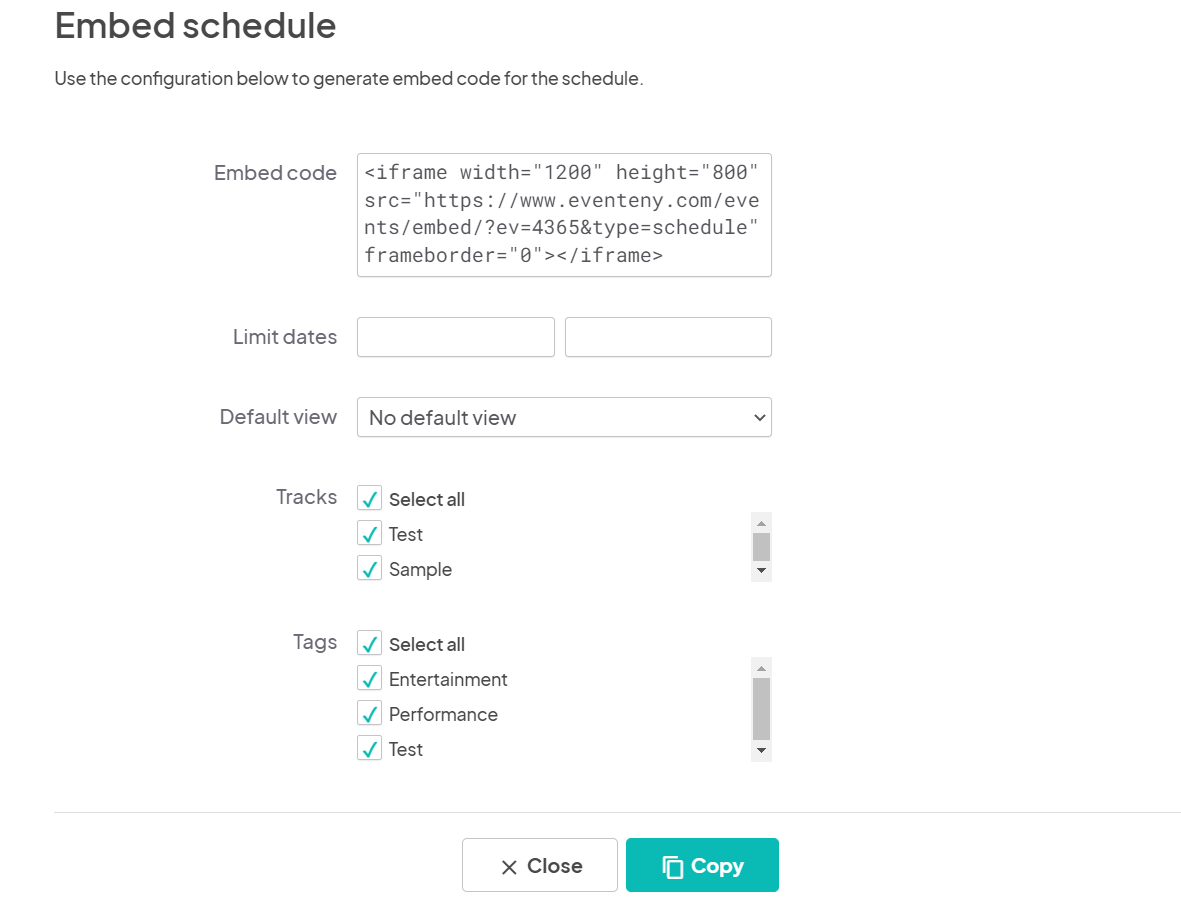 Here is an example of what it might look like using one of our event organizers, Comic-Con!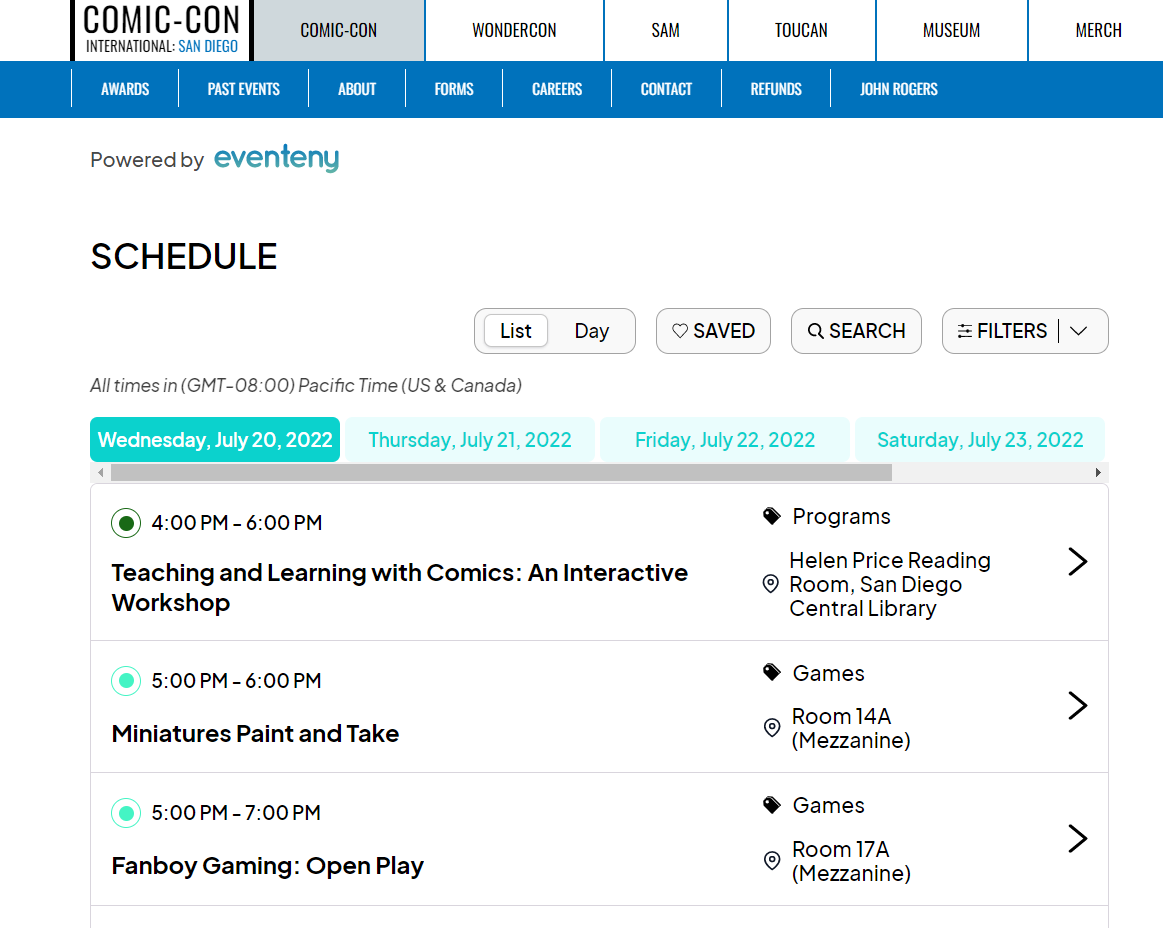 3. Lastly, you can reorder your tracks on your schedule using the Options dropdown. Simply click, hold down, and drag each track until you've reached your desired order.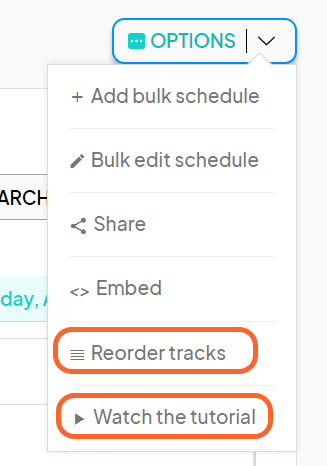 4. And if you ever need assistance, the Options dropdown has a direct link to the video tutorial on using the Scheduling feature on Eventeny.
You can also reach out to one of our customer success specialists to further assist you with any other questions!
Don't Forget to Publish
1. When you have created your desired schedule, remember to toggle to "Publish" at the top left corner of the scheduling window, so the world can see what is happening at your event.
Note: to change the public's default view of the list or day toggle from before, you have to unpublish the schedule, then click whether you want it on list or day, and then click publish again.