Company profile explanation and how it is different from regular profile set up.
LOCATING YOUR COMPANY DETAILS
1. Log in to Eventeny with your email and password.
2. Hover over the "My Events" tab and select "See all events" at the bottom.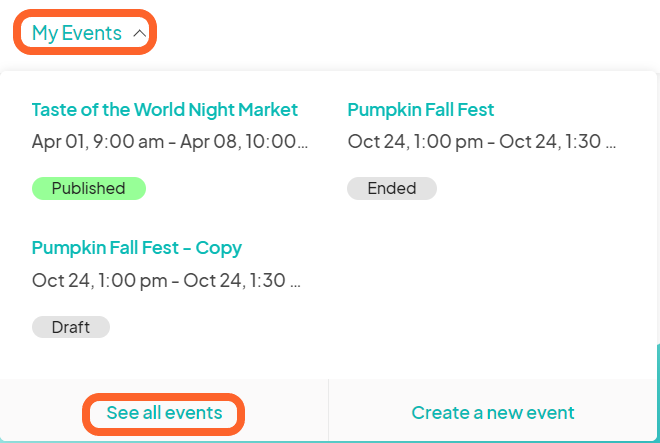 3. This is your Event Organizer Dashboard. On the left sidebar, click "Company Details."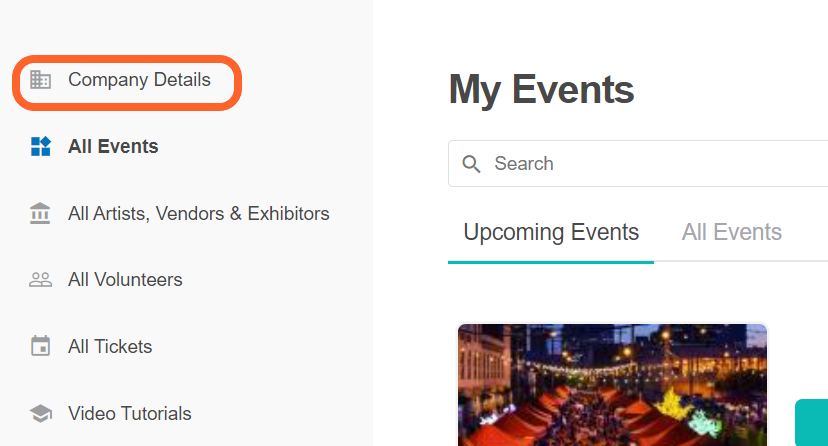 FILLING OUT YOUR PROFILE
To complete your Company profile, you'll be asked to supply the following information:
Business name

Legal business name

Primary contact name

Upload a Logo

Address

Email

Phone

Website

Number of employees

Company description
A "Business Page Link" will be supplied at the bottom, and the slug of the URL (everything after "company") can be edited.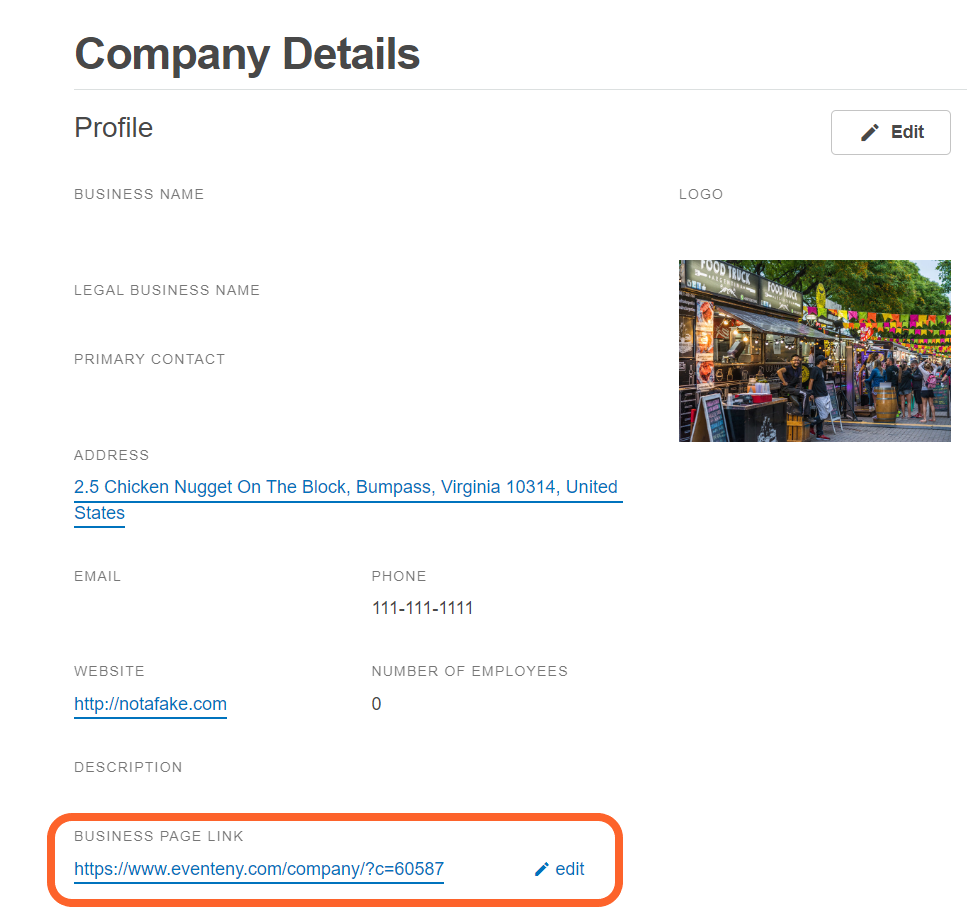 INVITING COMPANY ADMINS
Company admins are team administrators that have access to all the events under your company profile and are different from team members! If you would like to restrict access to specific events, or sections of an event, learn how to add team members.

1. Scroll down to the section "Company Admins" on the Company Details page.
2. Click the blue "+ New Admins" button on the right-hand side of this section and enter the information and permission level (company admin or product seller) of the person you'd like to invite. When you are finished, click "Add Admin" at the bottom.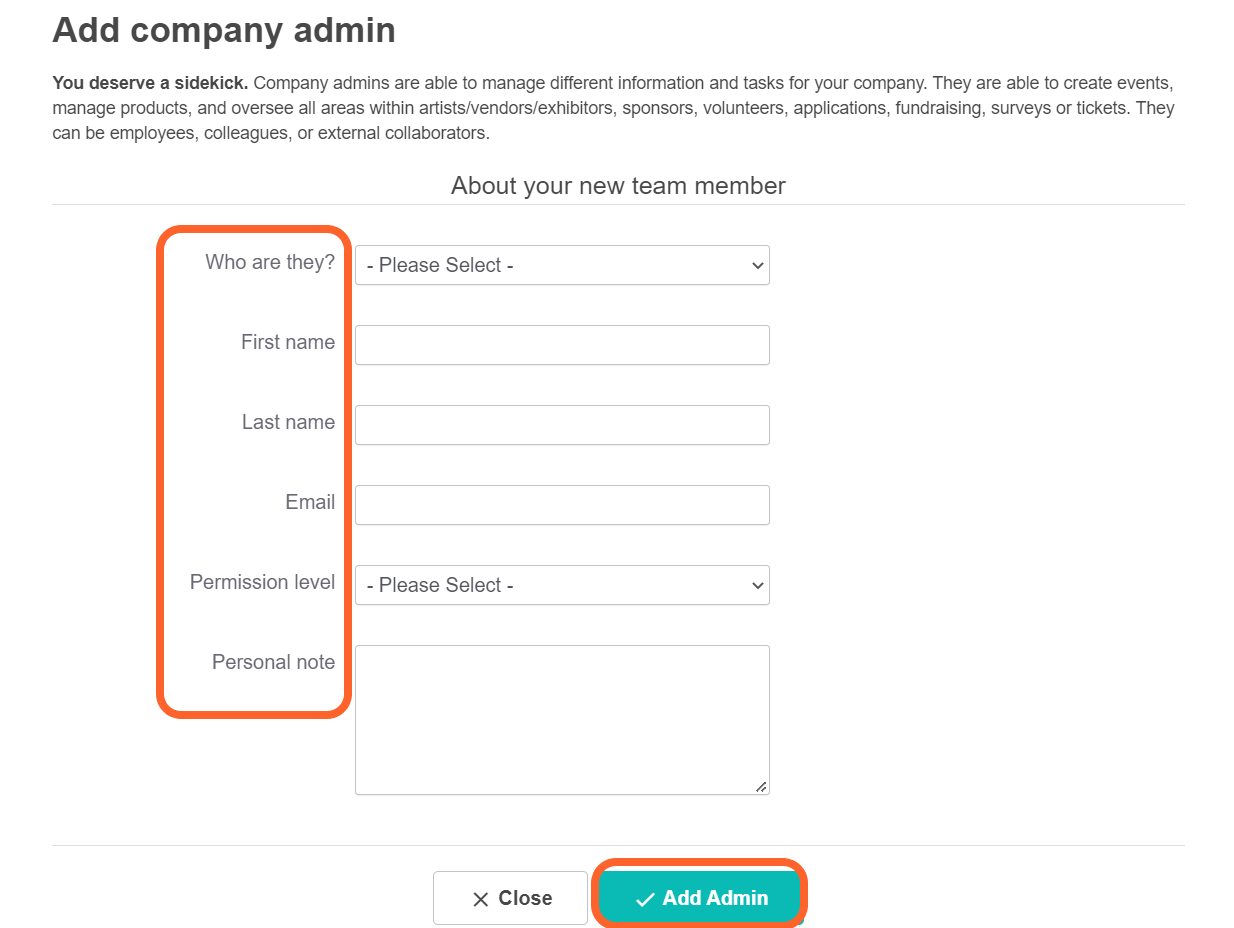 3. An automated email will be sent to them from Eventeny. The recipient must accept this invitation to gain access.
If needed, you can edit or remove admin using the "edit" or "remove" buttons shown in the example below.

ADDING YOUR PAYMENT METHOD
It is very important that you set up your payment method first because all your applications, tickets and your Eventeny subscription will default to the payment method you set up here. To do so:

1. Scroll down further to the section "Payment Information" on the Company Details page.
2. Click the blue "+ New Payment Method" button on the right-hand side of this section.

3. Enter the credit or debit card number associated with your business. When you are finished, click "Submit."
The below examples are not a real card numbers.

ADDING YOUR PAYOUT METHOD
To get paid, you need to set up a payout method. Eventeny releases payouts to your Stripe account immediately after payment is processed. The time it takes for the funds to appear in your bank account depends on your Stripe account configuration.
1. Scroll to the bottom to find the section "Payout Preferences" on the Company Details page.
2. Click the blue "+ New Payout Method" button on the right-hand side of this section.

3. Stripe will automatically launch the setup. Follow the prompts presented to connect.
After finishing, your payout preference should have a status that says "enabled" if the status shows "not enabled," as shown below, click "Go to stripe account" written in blue text to complete the necessary steps.
Note: While following these steps will get your Stripe account attached to your Eventeny account, you still need to change your selected payout method on your tickets and applications from "Check" to the Stripe account you have attached BEFORE you accept any payments. Otherwise, you will experience significant delays in receiving any money that should be coming to you from Eventeny. For more information on how to set up your tickets or applications, please see the individual articles on how to set these items up.
Up Next: