Once you have set up the background image for your map, your next step is to start placing all your vendor booths onto the map. Spaces can be anything from tables, tents, spaces, etc. Any place that is marked out for a vendor, exhibitor, or artist is considered a booth on the map.
When you first come to this screen, you will see two buttons. "+ new booth", and "+ multiple booths". Using the first one will place a single booth on the center of the map, while multiple booths will allow you to place a line of booths evenly spaced along the line.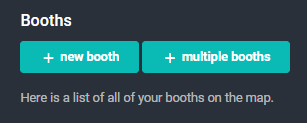 PLACING A SINGLE BOOTH
Click on + New Booth, and a new booth will appear on the map.

Click and drag the booth to where you would like the booth to reside on the map.

Use the drag points on the sides and corners of the booth to adjust the size or use the top ribbon to set the width and height of the booth, the background color, text size, and text color of the booth.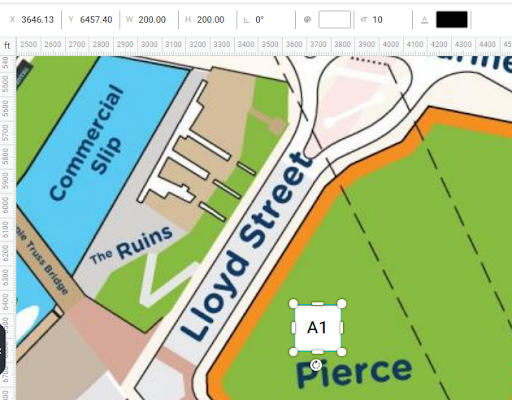 CREATE MULTIPLE BOOTHS
Click on "+ multiple booths".
In the top ribbon, select if you would like to draw a straight or freehand line.
Draw the line on the map.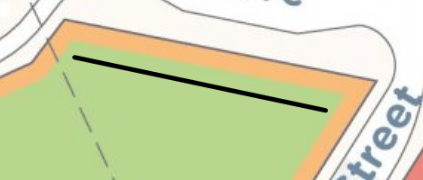 Once the line is drawn, type the number of booths you would like to place along the line in the # of booths field on the sidebar.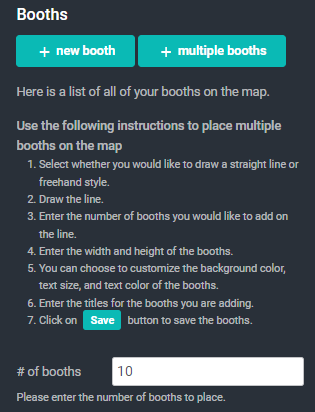 Use the top ribbon to set the height, width, color, text size, and text color of the booths.

Then, go back to the sidebar to enter the titles of the booths.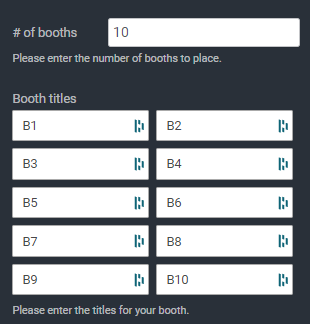 Then, click save on the top ribbon to save the booths.

Once you have the booth(s) placed, click on a single booth to be able to edit the details. The title can be any name you want to give the booth.

The description can be used to give more details about the booth, such as size, special features, etc.

If you want to charge a premium for this booth, you can list the additional cost in the amount box, as well as if you want to pass on or absorb any extra fees using the fees box.

Finally, you can keep this booth open to be selected by any application, or if you want to restrict it to a specific application(s) using the block booth selection box.