Prerequisites: Create an Account with Eventeny
Find the Event You Want to Apply to
1. Make sure you are logged into Eventeny.
2. Scroll towards the bottom of the home page until you see "Explore Events Powered by Eventeny." Here you can use the search bar and other filters to discover potential events to volunteer at in your area.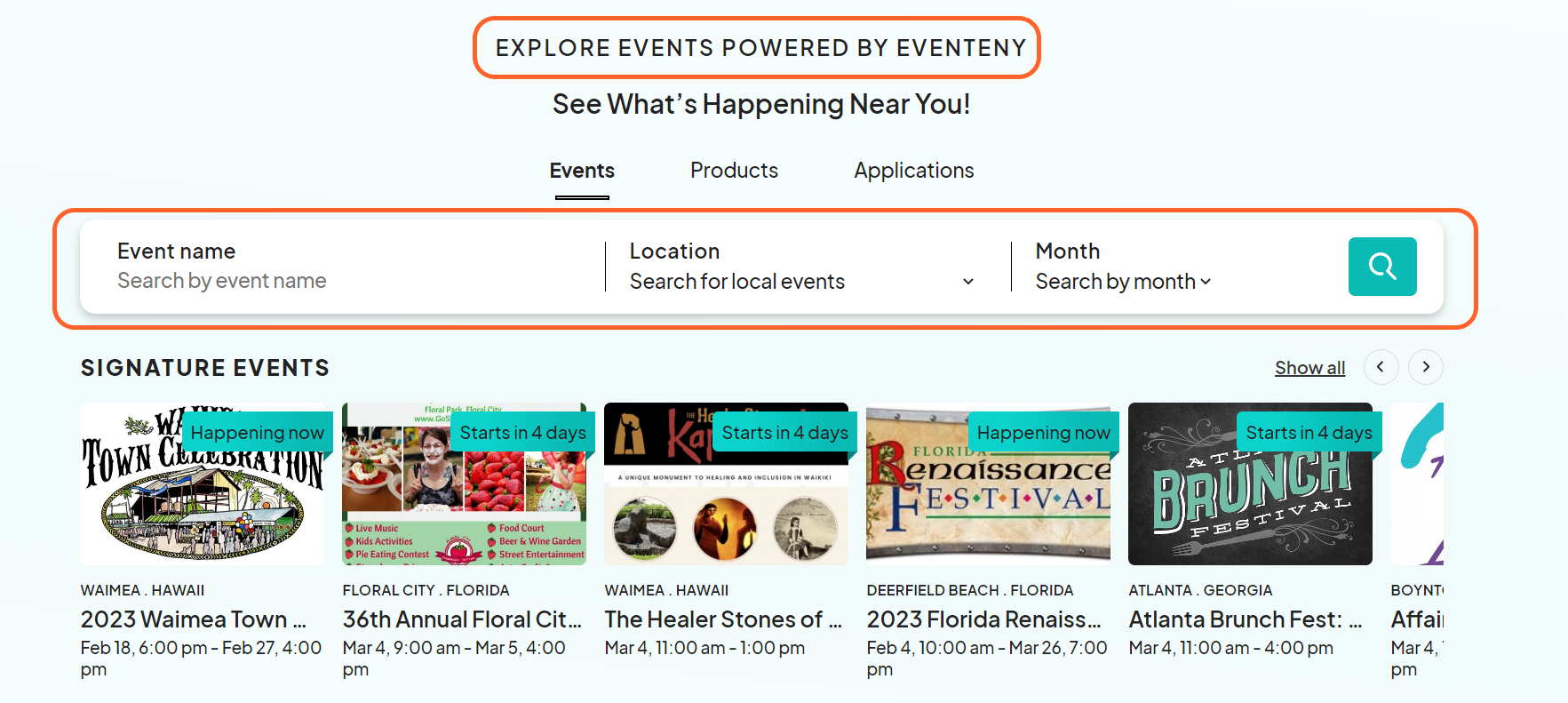 3. Once you find the event(s) you want to apply to click on the event to be taken to the event page.
Apply to be a Volunteer
1. This is the event page. At the top you should see various tabs including on labeled, "Volunteers." Go ahead and click that tab to be taken directly to the corresponding section.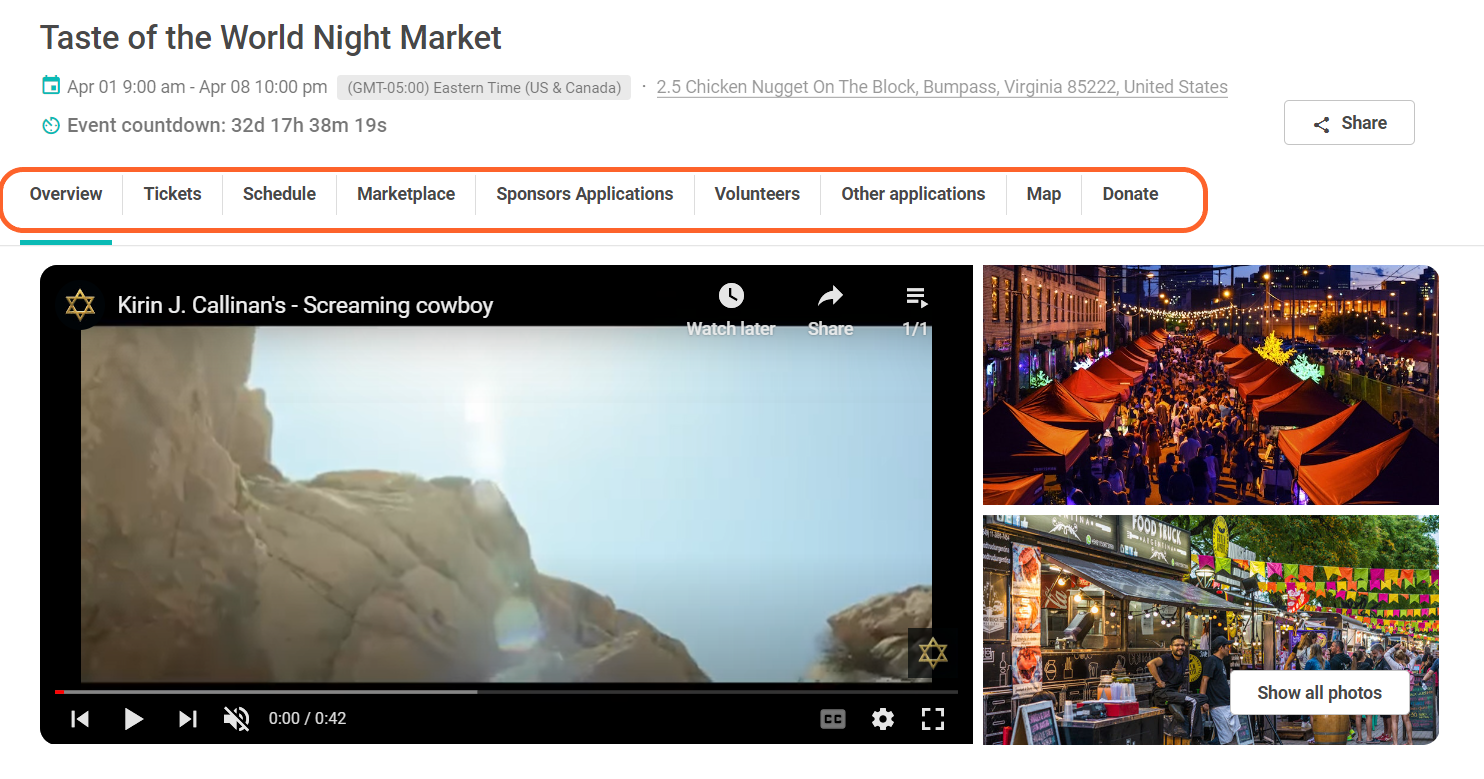 2. Choose the volunteer application you want to apply to and click "Apply."

3. This is the application. Before you begin the application, please look over the description as well as the terms and conditions. If everything sounds agreeable to you, click the blue "Start Registration" button.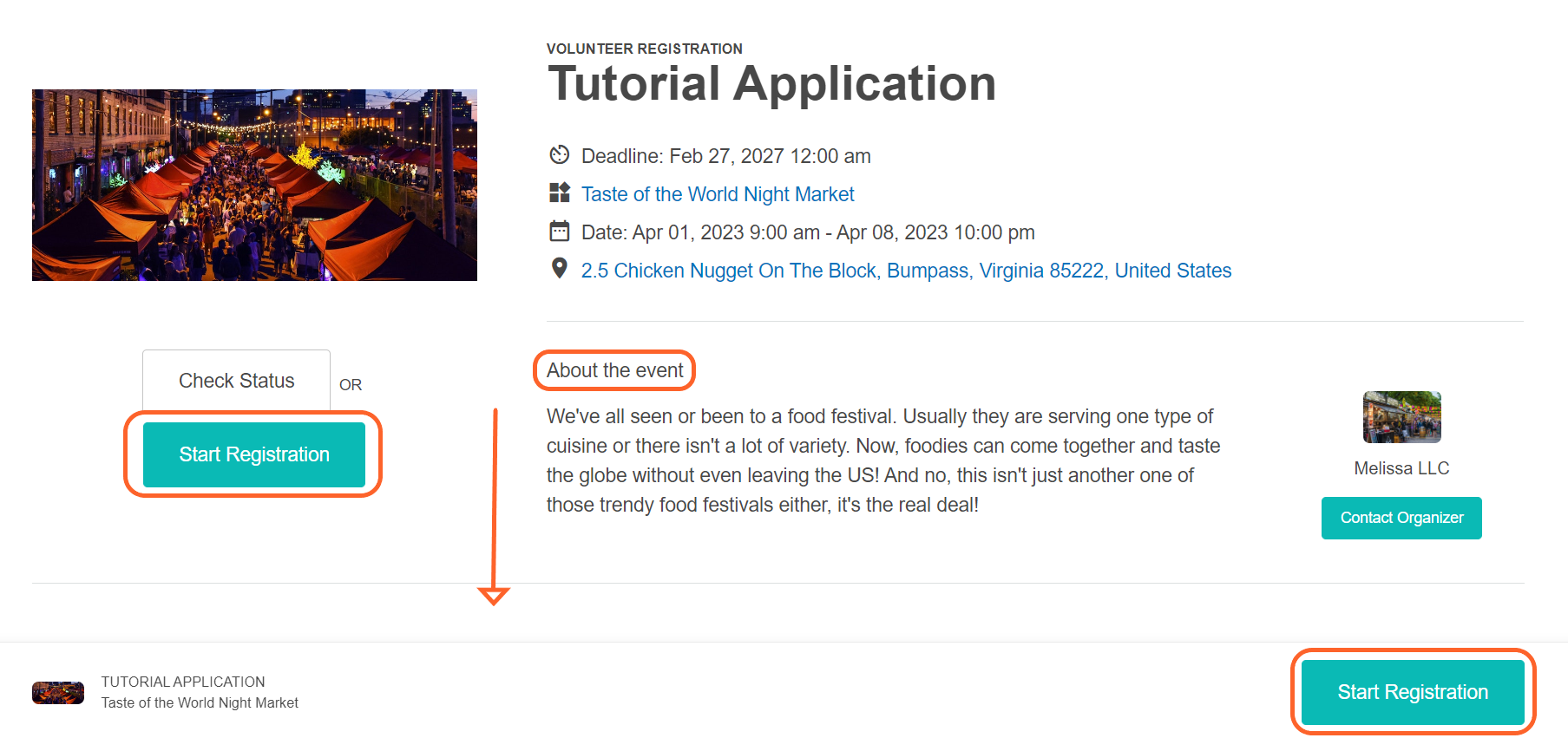 Application Steps
Note: Every application is different in that each application can ask for different information, some more or less than others. The examples below serve as a general idea or what to expect at a minimum when applying to be a volunteer. As long as you carefully fill out the entire application and read through the description and terms and conditions, you'll be golden!
And remember, when in doubt, contact the event organizer for clarification!
1. The first step is to provide your volunteer information. This is generally your name and contact information such as phone number and email.
When you are finished, click the blue "Save & Continue" button.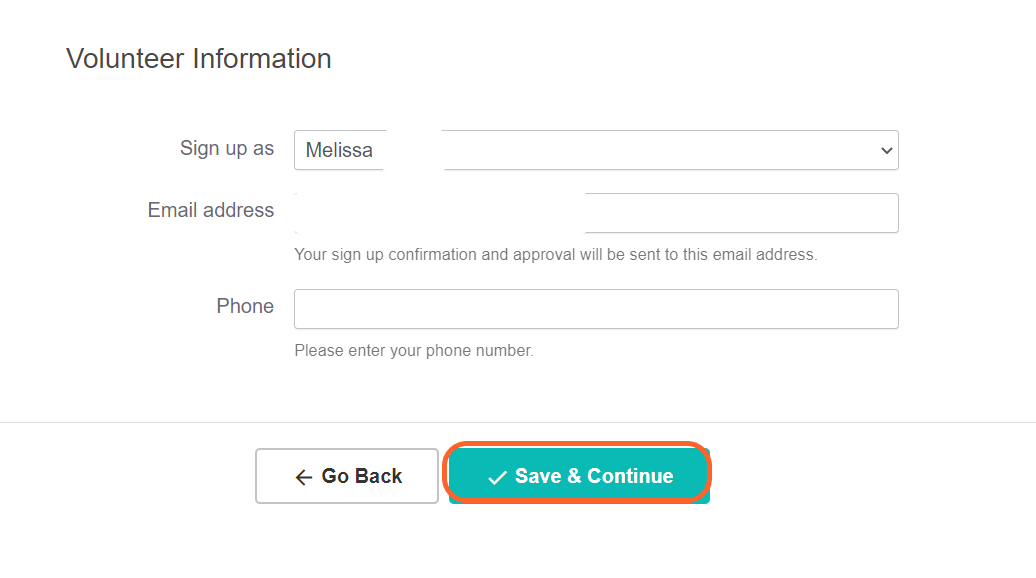 2. Next is additional information. This is the part of the application where the event organizer may include questions such as your t-shirt size (when applicable) or perhaps past event references (always optional). Be sure to fill out this section carefully as it can sometimes get lengthy depending on the type of event.
When you are finished, click the blue "Save & Continue" button.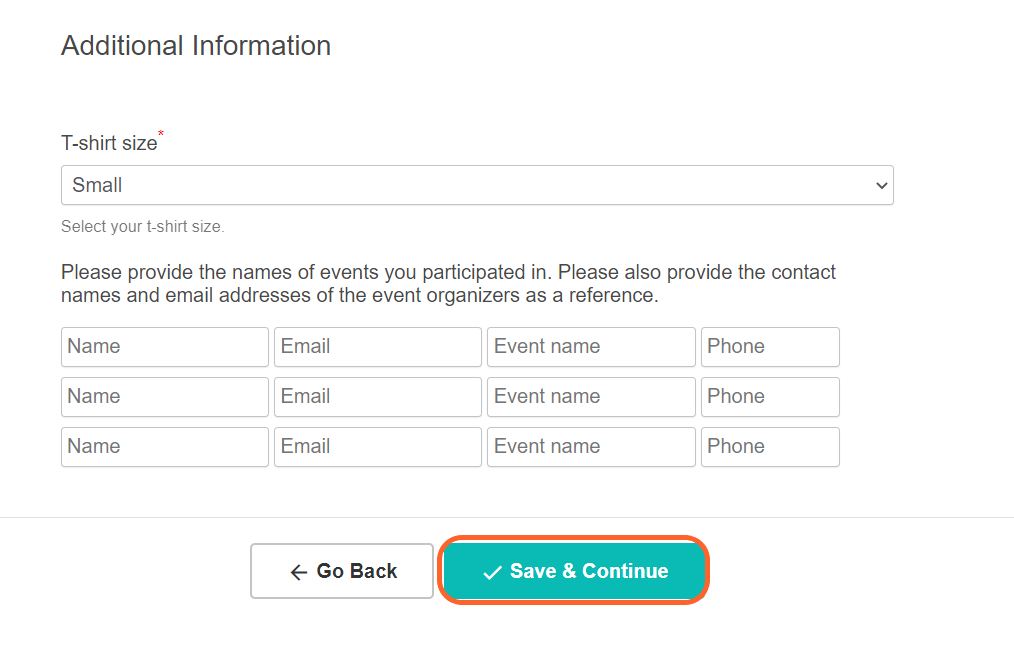 3. Next is Department/Shift selection. This is a section that varies greatly. Some event organizers will set up department shifts instead of application shifts. Others will not allow volunteers to choose their own shifts whereas some will. Keep this in mind when you get to this section.
When you are finished with your selections (if applicable), check that you agree to the terms and conditions and that you are over the required age limit. Then click the blue "Submit" button below.
*Below are two examples of what you may see in the Department/Shift selection section. If there is no department/shift selection section, the event organizer will likely choose for you. *
For more information on the difference between departments and shifts, click here.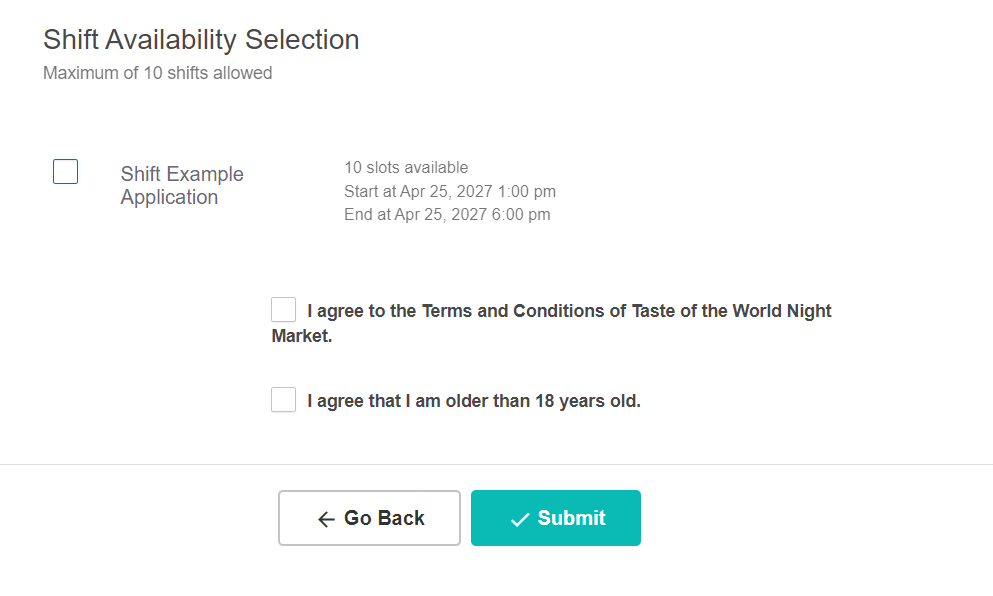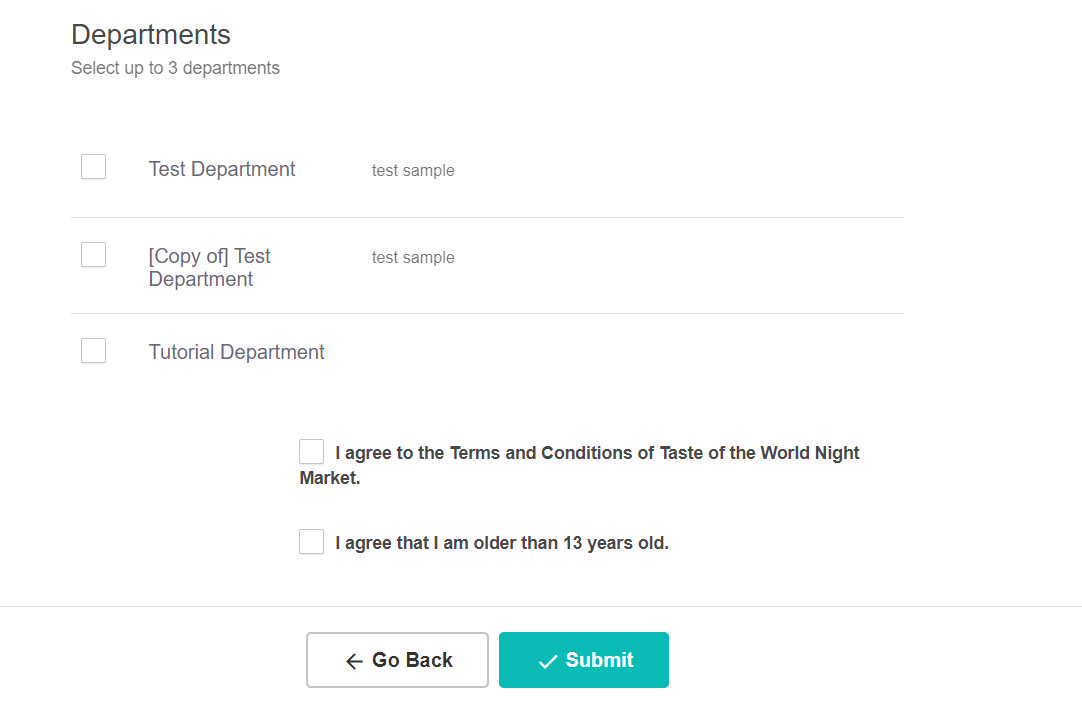 After Submitting Your Application
1. Congratulations! You have successfully submitted your application. After selecting your shifts/departments, you should be taken to a confirmation page.
Here you can withdraw your application if you wish, as well as review/edit the information you entered.
To the right, you can also reach out to the event organizer if you have any event specific questions.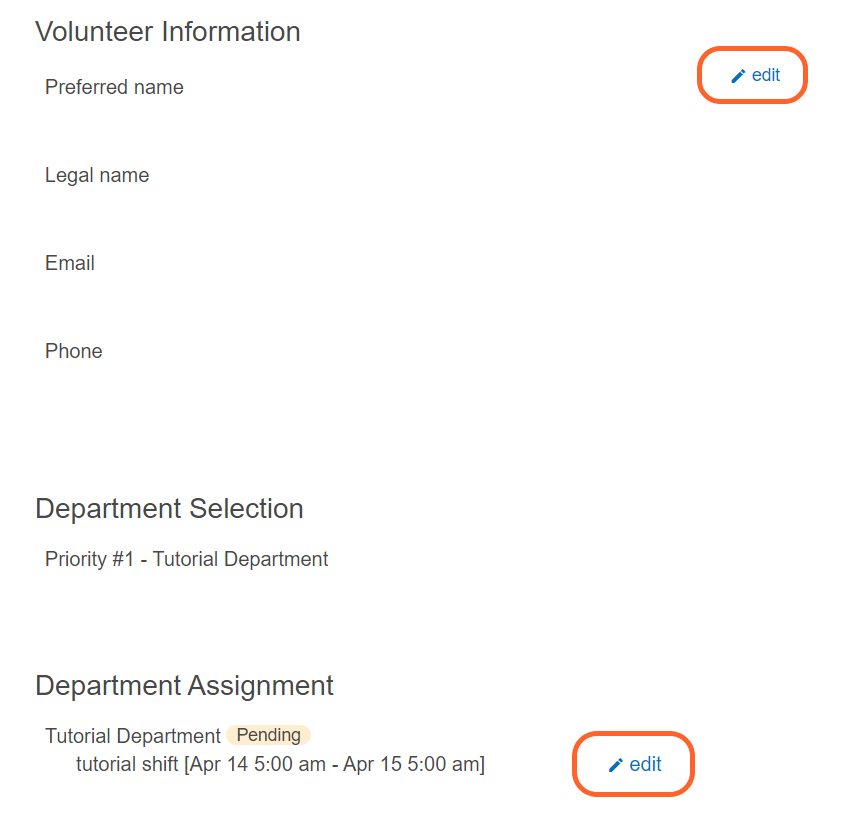 Note: Some event organizers will not allow volunteers to edit their information or shift selections after submitting or after approval. If you do not see the edit buttons written in blue text to the right of each section, reach out to the event organizer to inform them of your needed changes.
Think this article can be better or have an idea for a new one? We want to know! Please feel free to leave a comment at the bottom of this page or reach out to Eventeny customer support with your juicy ideas!
Recommended Next Steps:
View, Edit or Check the Status of Your Application