LOCATING YOUR MAP
Select the event you'd like to work on.
Under "Home" select "Maps"
Click "✎ Edit Details" on the map you'd like to assign booths to.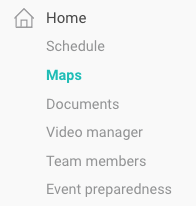 SWITCHING MAPS
During the editing process, you might need to switch to another map quickly to make changes or make booth assignments. To do so, you'll:
Click the up arrow at the bottom of the page to bring up the other maps connected to your event.
Select the map you'd like to switch to.
The selected map should appear for you to begin editing.
If needed, you can easily switch back to the original map by following the same process.