It's important to set up your payment and payout methods before you start creating your event or applying to events. This creates a smoother and more automated experience for everyone, as you won't have to scramble to set it all up last minute or delay receiving your funds!
What is the Difference Between the Payment and Payout Method?
Payment Method refers to the method in which you use to pay for things on the Eventeny platform such as tickets, application/booth fees, donations, products, etc.
Payout Method refers to how you get paid and receive funds on the Eventeny platform from applicants, ticket buyers, customers, etc.
In a nutshell: payment is how you pay, and payout is how you get paid.
Now that you know the difference, let's go over how to set those two up!
Go to Your Company Details
1. Make sure you are logged into Eventeny.
2. At the top of the home page, hover over the "My Events" tab and click on "See all events."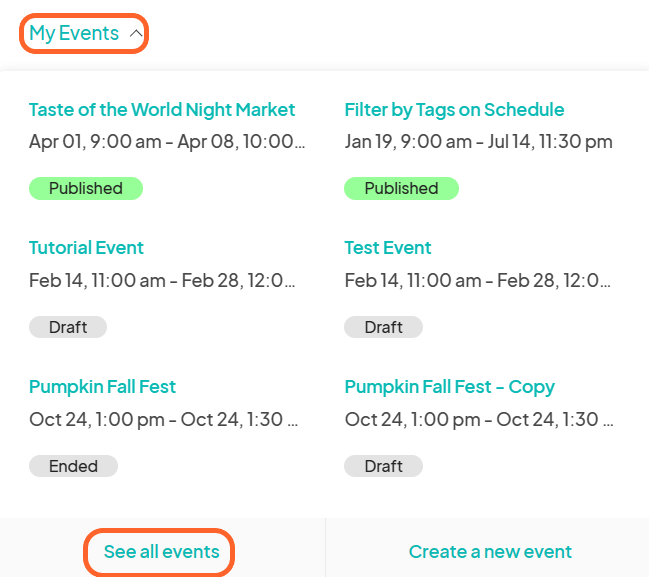 3. On the left sidebar, click "Company Details."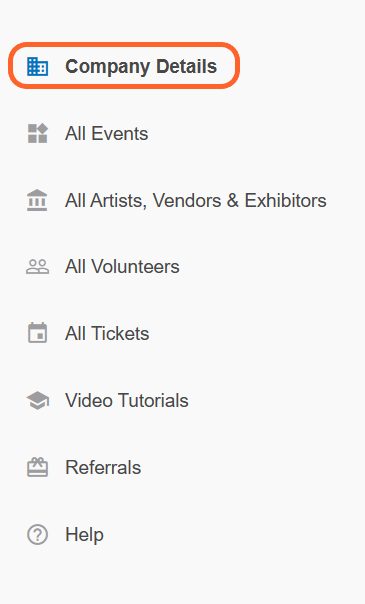 Adding Your Payment Method
1. Scroll down your company details page until you see the "Payment information" section. To add your payment information, click the blue "+New Payment Method" button.

2. The system will then ask you to input your card information. This is the card that will be used to make purchases on Eventeny.
When you are finished, click the blue "Submit" button.

3. Congratulations! You have successfully added your payment method. You can edit or change your payment method at any time by following the steps above.
*The card numbers shown are not real. *

Adding Your Payout Method
1. Remaining on the company details page, scroll down further until you see the "Payout preferences" section. To add your payout method, click the blue "+ New Payout Method" button.

2. You'll be redirected to create a Stripe account (our third-party payment processing software). You must create a Stripe account in order to receive payments on Eventeny. Go ahead and go through the prompts to get set up with Stripe.
3. When you are finished creating a Stripe account, you'll be redirected back to the company details page which will show your newly created payout method. The button in the middle should be green and read, "Enabled." If it does not, please contact Eventeny customer support.

4. Congratulations! You have successfully added a payout method. You can change your payout method at any time by following the steps above.
Note: While following these steps will get your Stripe account attached to your Eventeny account, you still need to change your selected payout method on your tickets and applications from "Check" to the Stripe account you have attached BEFORE you accept any payments. Otherwise, you will experience significant delays in receiving any money that should be coming to you from Eventeny. For more information on how to set up your tickets or applications, please see the individual articles on how to set these items up.
Think this article can be improved or have an idea for a new one? We want to know! Please feel free to leave a comment at the bottom of this page or contact Eventeny customer support with your juicy ideas!