The first thing you will need to do is create a map. There are multiple ways to set it up, and numerous things you can show on it.
If you have permission to manage maps, click into your event and then follow the steps below.


LOCATE MAPS IN THE MENU
1. On the sidebar (menu of links on the left side of the screen), click on the home link, and then on maps on the menu that shows up below home.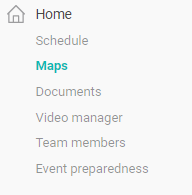 2. If there are no maps created for your event, you will see a button in the middle of the screen, that says "Create Your First Map". If there is at least one map already created, the button will be in the upper right corner of the screen and will say "+ new map". Either way, click on the button to start the map creator.