The maps section on your event dashboard is where you can share, export, print, preview, and remove the maps you have created on Eventeny. Here is a how to navigate this important aspect of your event.
Find Your Maps Tab
1. Make sure you are logged in to Eventeny.
2. At the top of the home page, hover over the "My Events" tab and select the event you wish to create a map for.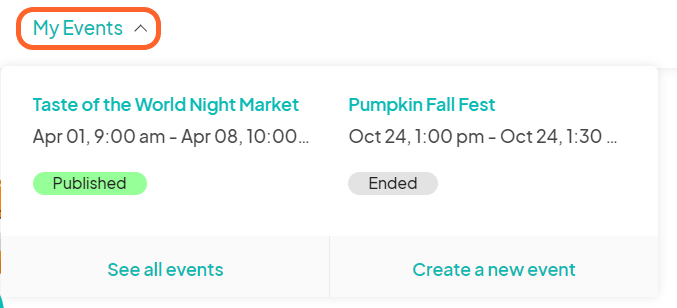 3. You should now be on your event dashboard. On the left side bar, select "Maps" under the "Home" tab.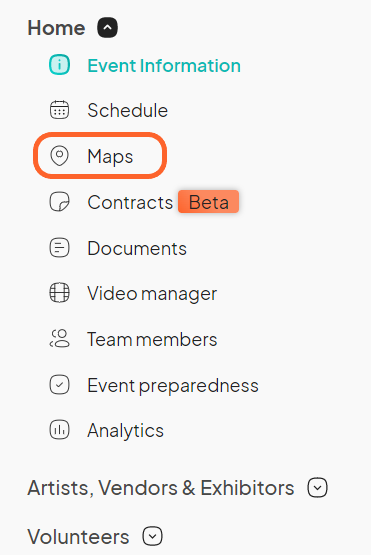 Navigating the Maps Page
1. This is your maps page located on your event dashboard. It is where all of your maps that you have created will populate, and where you can create new ones.
2. For maps already created, you will see a group of general statistics listed directly under the title of your map: visibility, sections, booths/spaces, status, and description.
Visibility: tells you if your map is public or private. Public means that anyone that visits your event page can see your map. Private means that only those with a shared link to your map can see it. We will cover how to share your map link later on.


Sections: if you happen to design your map using sections, this will tell you how many your map has.


Booths/Spaces: like sections, this part tell you how many booths or spaces your map has.


Status: this part tells you if your map is in draft or live mode. Keep in mind that regardless of your "Visibility" status, no one will be able to see your map if it is draft mode. So, if you are ready to launch your event, make sure your maps are toggled to "live."


Description: if you have written a description for your map, it will show up here.
Editing and Creating a New Map
1. You can edit any one of your maps by clicking the blue "✎ Edit Details" button at the bottom of each map.
2. Creating a new map is just as easy. Simply click the blue "+ New Map" button at the top right of the map page.
If you have never created a map before, this blue button will also be located in the middle of the maps page.
When you click the edit or create map buttons, you will be taken to the map editor. For an in-depth tutorial on how to use the map editor, check out this article.
Other Map Buttons
1. Below your map statistics, you will see that there are various buttons: preview, copy, share, remove, print, and export.
Preview: allows you to see your map from an attendee's or vendor's perspective. This is helpful for you to see if everything about your map is in order and not missing anything. Make sure your map is toggled to live mode for this to work.


Copy: allows you to make a copy of your map.


Share: this is where you can share the link to your map. This also the button to use when your map is private, and you need to share the link to select individuals.


Remove: for when you want to delete your map. This action is not reversible, so carefully consider before using this button.


Print: for when you want to print your map.


Export: allows you to transfer your map data (booths, vendors, descriptions, etc.) into an Excel spreadsheet.
Map Options
1. At the top right of the maps page, there is an "Options" dropdown. There you will find an option to embed your maps or watch a video tutorial on how to use the maps page.
2. The <> Embed option will pull up a link to the map of your choosing for you to copy and use for your website, if you have one. Just click the blue "Copy" button at the bottom when you're ready.