IMPORTANT: Our strong recommendation for creating applications and departments is to follow this formula: one application, multiple departments OR multiple applications, no departments. This helps prevent overlap and confusion when setting up shifts and taking volunteer submissions.
With that being said, this article is for you if you plan on going the one application, multiple departments route. If you have not created an application yet, learn how to do so here.
Find Your Volunteer Applications Page
1. Make sure you are logged into Eventeny.
2. At the top of the home page, hover over the "My Events" tab and select the event you wish to work with.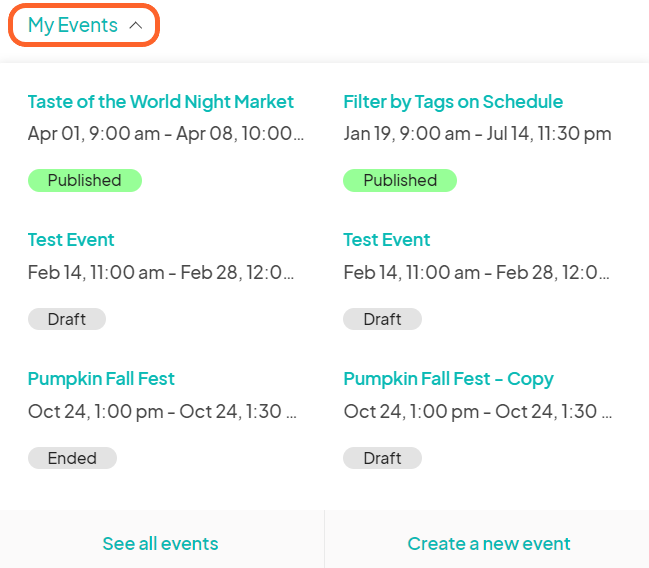 3. This is your event dashboard. On the left sidebar, click the "Volunteers" tab and select "Applications."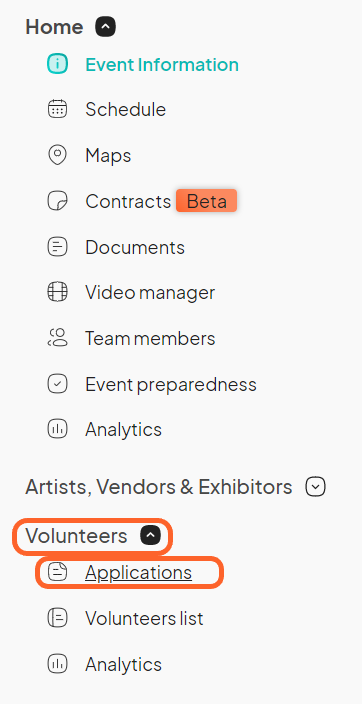 Create a Department
1. This is your Volunteer Application page. To find the Department section, scroll down the page until you see "Departments."
At the top right corner of the section, click the blue "Add new department" button to create a department.

2. Your first step in creating a department is to add some general information such as:
Title
Minimum Age
Number of Volunteer Slots
Volunteer Shift Selection
Description
Cover Photo
When you are finished filling it out, click the blue "Save" button at the top right corner.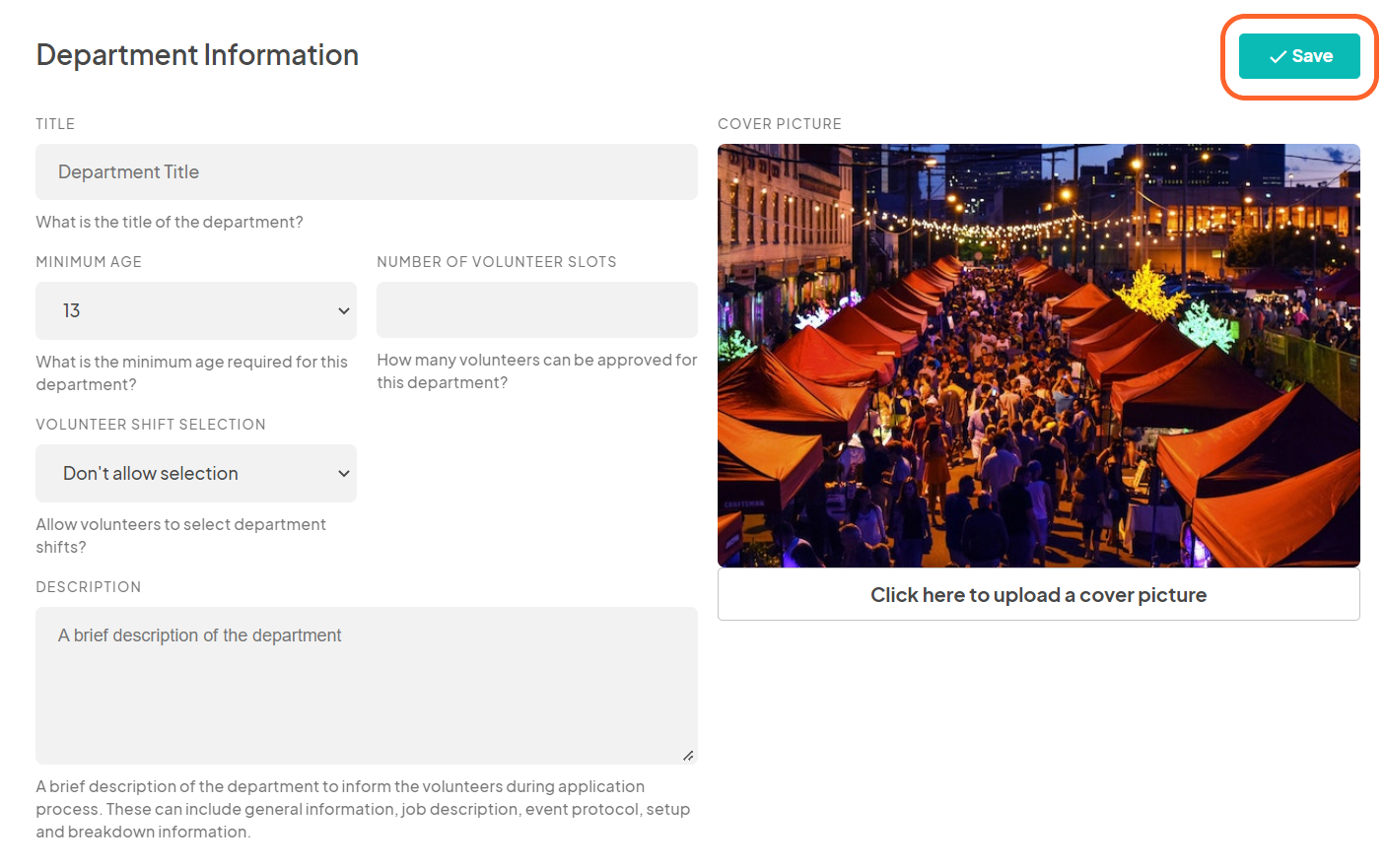 3. The department will populate back on the volunteer application page. There is still more information to add. Go ahead and click "edit and manage" written in blue text on the department.

4. You will first be shown the general information you just filled out at the top of the editing page. You can edit this information at any time by clicking the "✎" symbol at the top right corner. Just don't forget to hit the save button in the same place when you're done!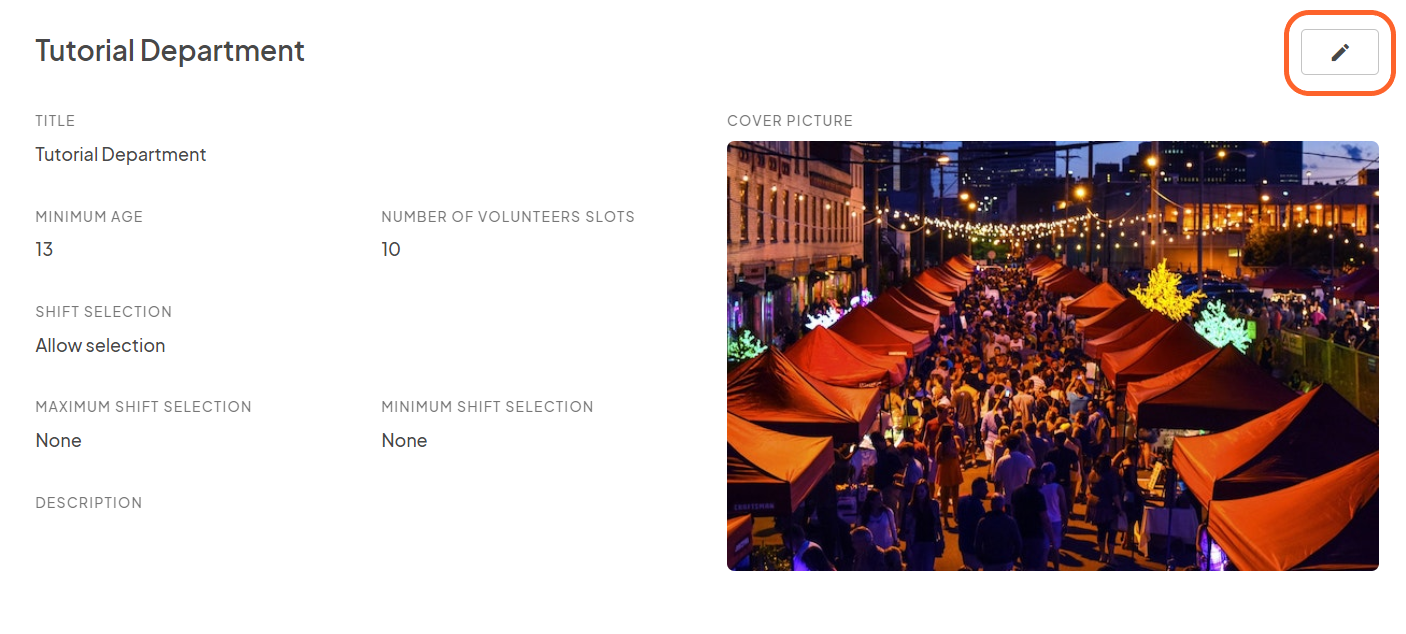 Department Shifts
1. As you scroll down the department editing page, the next section is shifts. Towards the top right of the section, you have three options: export shift details, new shift, and bulk shifts.
Learn more about creating shifts (including bulk shifts).

Keep Track of Department Volunteers
1. The last section is Volunteers. This is where all of your department specific volunteers (for that specific department) will populate. For example, the clean up crew department will only show volunteers for the clean up crew.
You can send them a group message by click the blue "group message" button at the top right corner.

Think this article can be improved or have an idea for a new one? We want to know! Please feel free to leave a comment at the bottom of this page or contact Eventeny customer support with your juicy ideas!