Prerequisites: Connect Your Stripe Terminal
Getting Started on the Mobile Application
1. Please ensure Bluetooth is enabled before you begin this process. Otherwise, you may experience issues connecting your device to your terminal.
2. Open the Eventeny mobile app and make sure you are logged in.
Find the Event Administration Screen
1. Tap "My Events" at the top of the screen and select the event you wish to work with.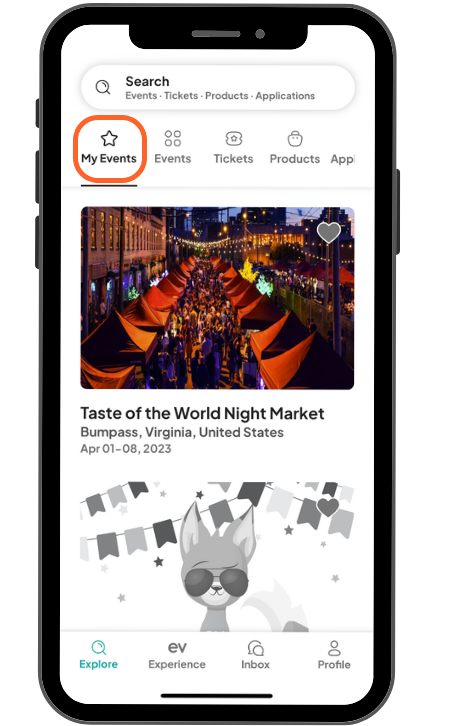 2. Tap "Manage event" on the Event Page.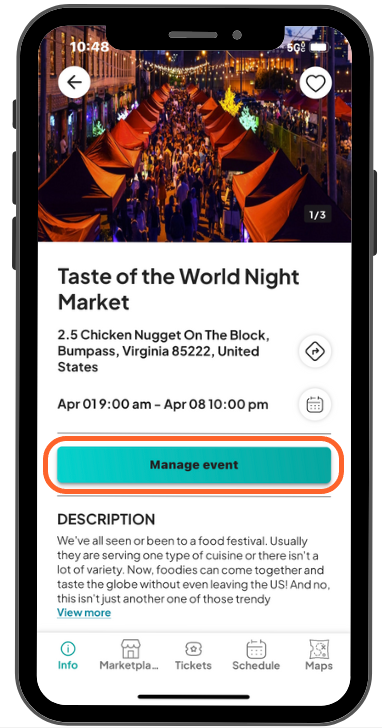 Ticket Settings
1. This is the event administration screen. Before you start selling tickets, it might be a good idea to configure your ticket settings to maintain a seamless experience. Go ahead and tap "Settings" under the "Tickets" header.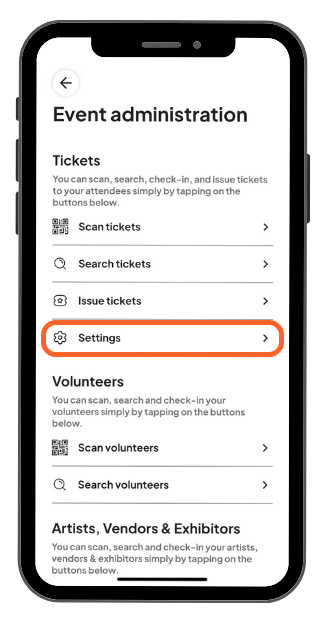 2. This is your ticket settings page. Here you will see various fields with toggles next to them. You can choose to require or make optional the following:
Badge Scanning
Email
First and Last Name
Phone Number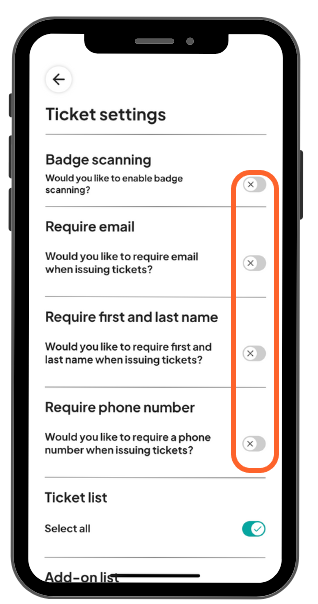 3. Below those fields, you can also choose to see the ticket list and add-on list.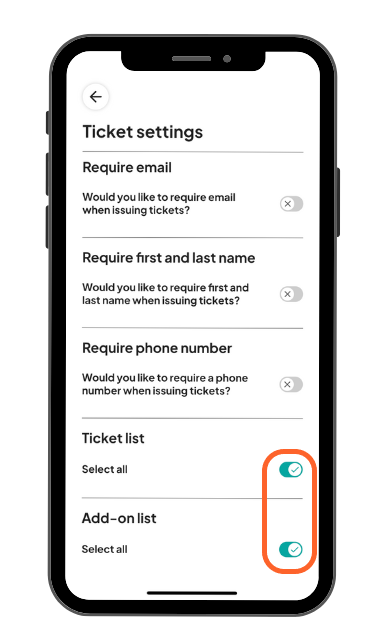 Issuing Tickets
1. Under the "Tickets" section on the event administration screen, tap "Issue tickets."
2. Select the ticket(s) the attendee wants to purchase and tap "Next" at the bottom.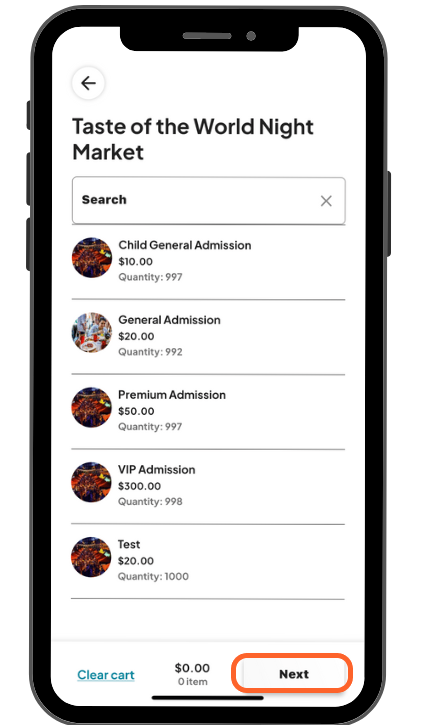 3. Input the attendee's information and use the toggle to check-in the ticket(s) or not. When you are finished, tap the blue "Next" button at the bottom right.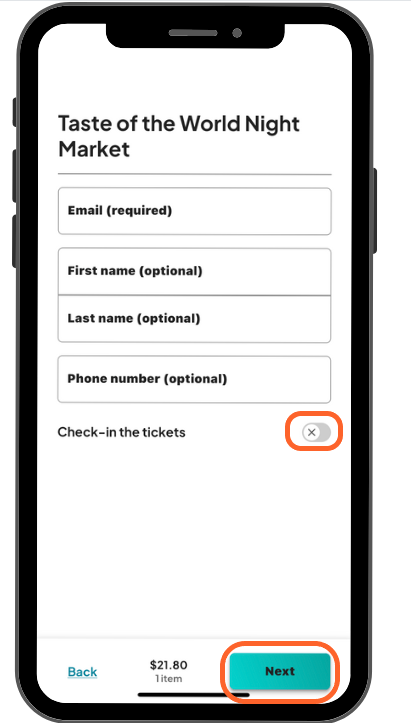 4. Select the attendee's payment option.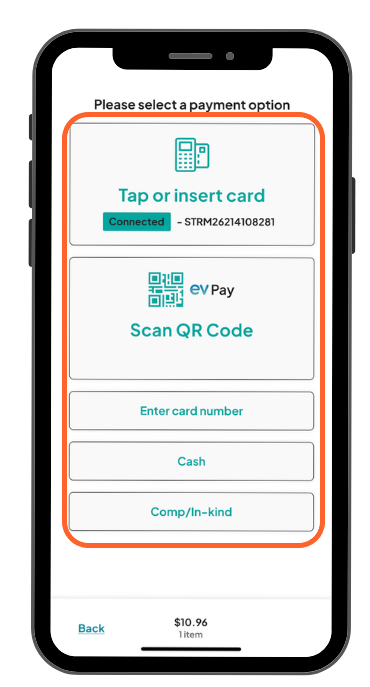 5. If everything looks correct, tap the blue "Charge" button at the bottom right.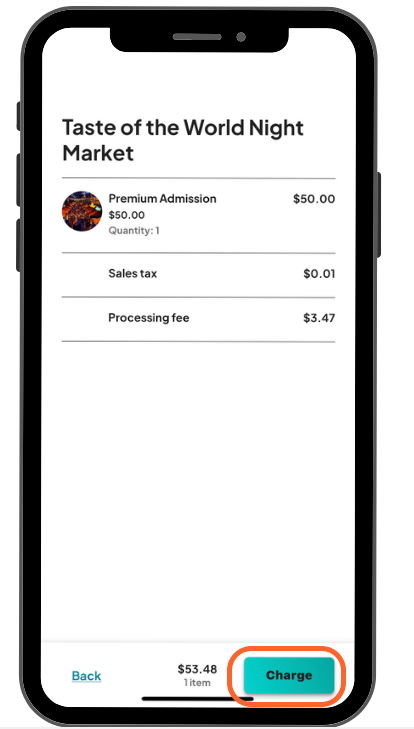 Terminal Transactions
1. If you have chosen the "Card Terminal" payment option, you will be taken to a different screen than the other payment options. If you have not connected your card terminal, learn how to do so here.
2. Once your terminal is connected, a blue-green screen should appear prompting the purchaser to tap, swipe or insert their card into the terminal.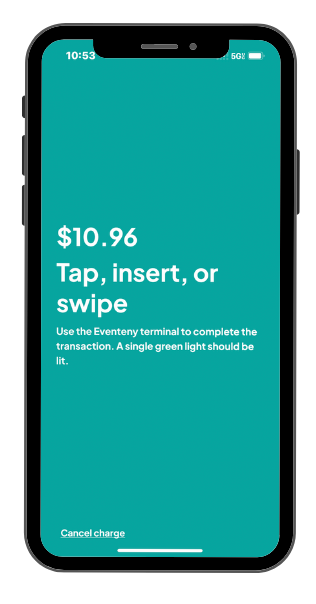 3. Next, another screen will prompt the purchaser to add gratuities to their order. This part is always optional.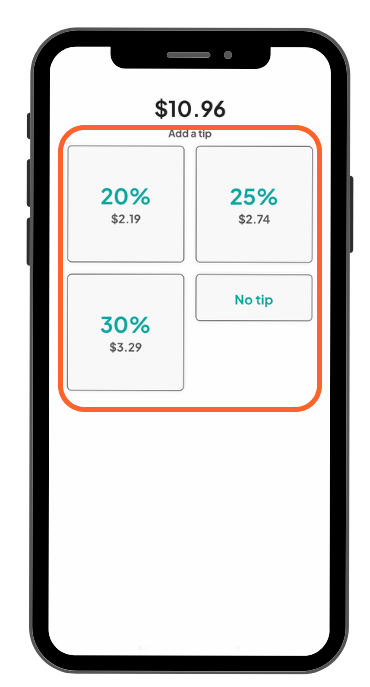 4. A successful transaction will yield the "Payment process successful" or "Thank you for your purchase" notification appearing. Please note that if a payment declines at this time the application will show nothing at this time. However, this will change soon!