Product Update April 2022
NAVIGATING TO YOUR EVENT SETTINGS
Navigate to the event you'd like to work on.
Select "Settings"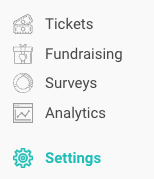 UPDATE SCHEDULE SETTINGS
Scroll down to "Schedule Settings."
Click "✎ edit"
Select either "Yes, on all schedule items" OR "Only on schedule items with linked tickets."
Click "✓ Save."
If you selected "Yes, on all schedule items" you are now done. If you selected "Only on schedule item with linked ticket" please see the next step to create the connection.

LINK TICKETS TO YOUR EVENT SCHEDULE
Under "Home" select "Schedule."
Click on the schedule item you'd like to link a ticket(s) to.
A panel will appear on the right-hand side. Click "✎ Edit Schedule" at the top.
A pop-up will appear. Scroll down to the bottom to "Access Type."
Select "Viewable to private viewers" from the dropdown menu.
Under "Access Option" select "Access Via Ticket" from the dropdown menu.
Use the checkmark boxes to select the ticket(s) you would like to link to the schedule item.
Click "✓ Save"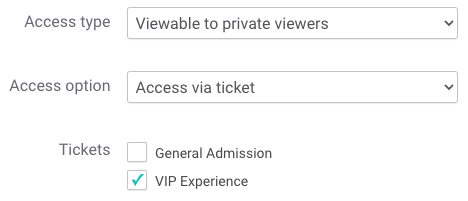 CONFIRM TICKET LINK IS ACTIVE
Navigate to your event page.
Click "Schedule" in the navigation bar at the top of the page OR scroll down to the schedule.
Select the schedule item you've modified.
A ticket section should now be visible at the bottom of the page.
Click "Purchase Tickets" to verify the correct tickets are available for purchase.