Note: This article is intended only for ticket buyers (attendees) that have already purchased their tickets! If you are an artist, vendor or exhibitor, check out this article here.
LOCATE YOUR TICKET(S)
1. Make sure you are logged in to Eventeny.
2. At the top right corner of the page, hover over your profile icon and select "View profile."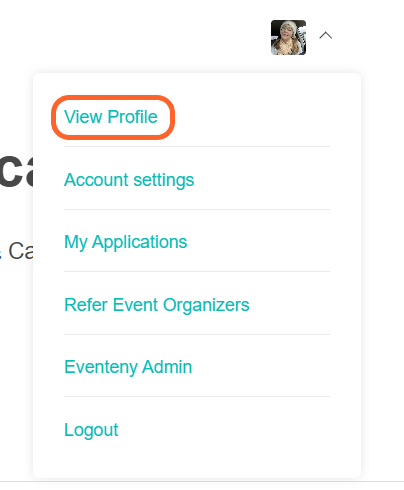 3. Scroll down under the "My tickets" section until you find your ticket that you need to submit documentation for. Click "View details" written in blue text to the right of the ticket.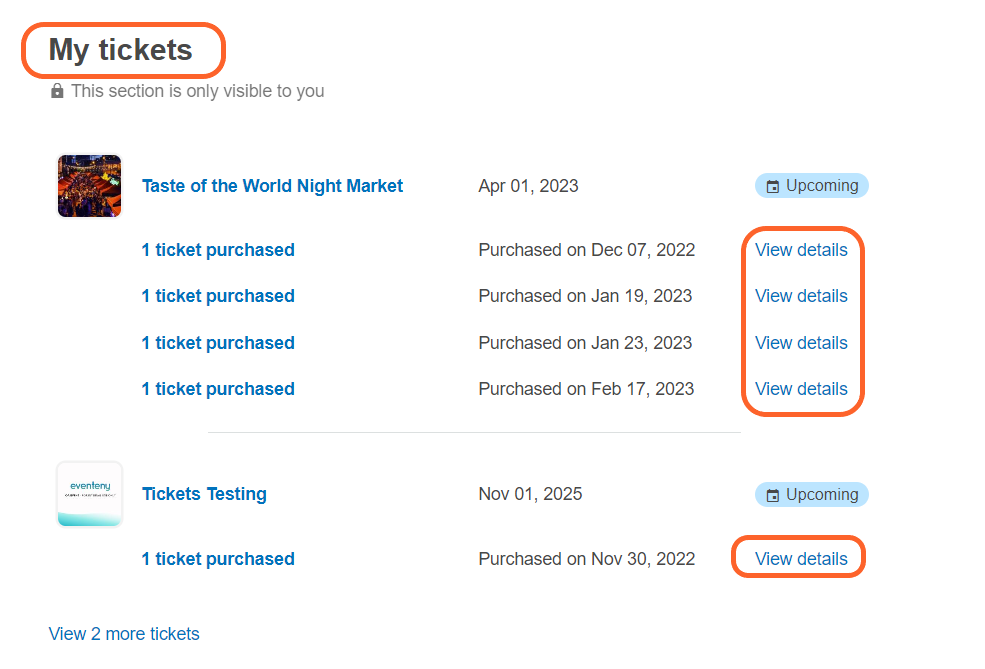 1. Under "What to do next?" to the right of the ticket information, you should see an "Upload documentation" option written in blue text. Go ahead and click that option.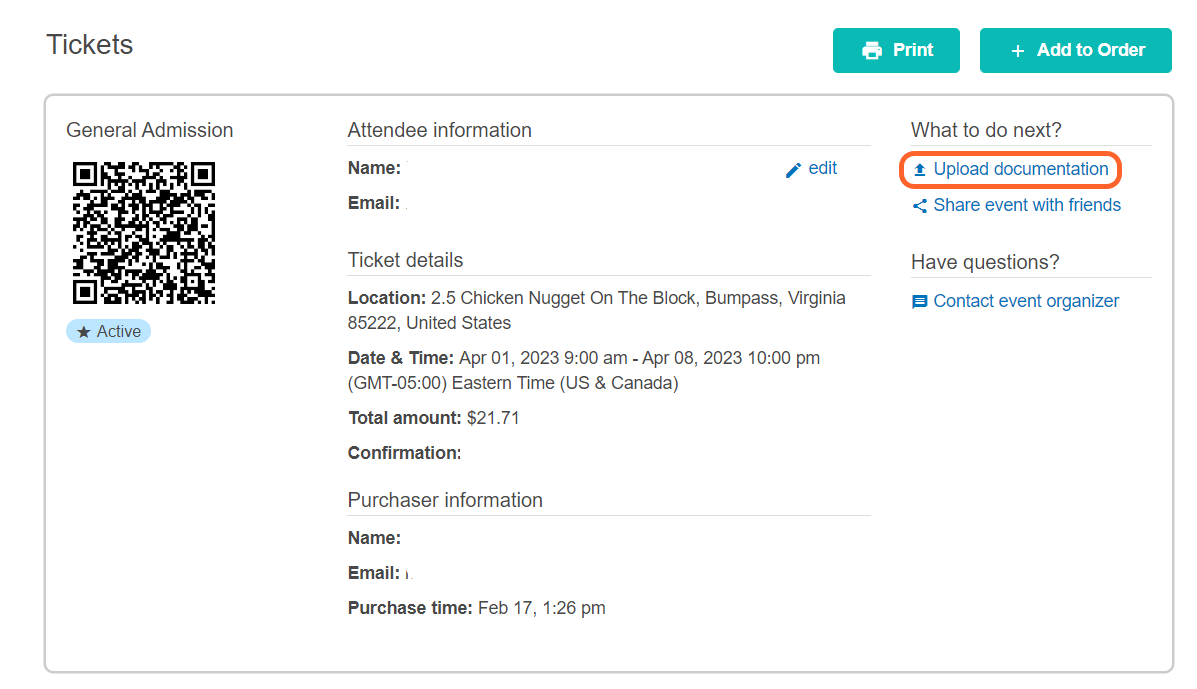 If you do not see this option, it either means the event organizer does not need documentation from you, or there is a problem with their ticket creation settings. Please reach out to the event organizer directly to confirm.
2. You will be taken to your "Personal Information" page. Scroll down to the "Documents" section and click the "+add" button to the right written in blue text.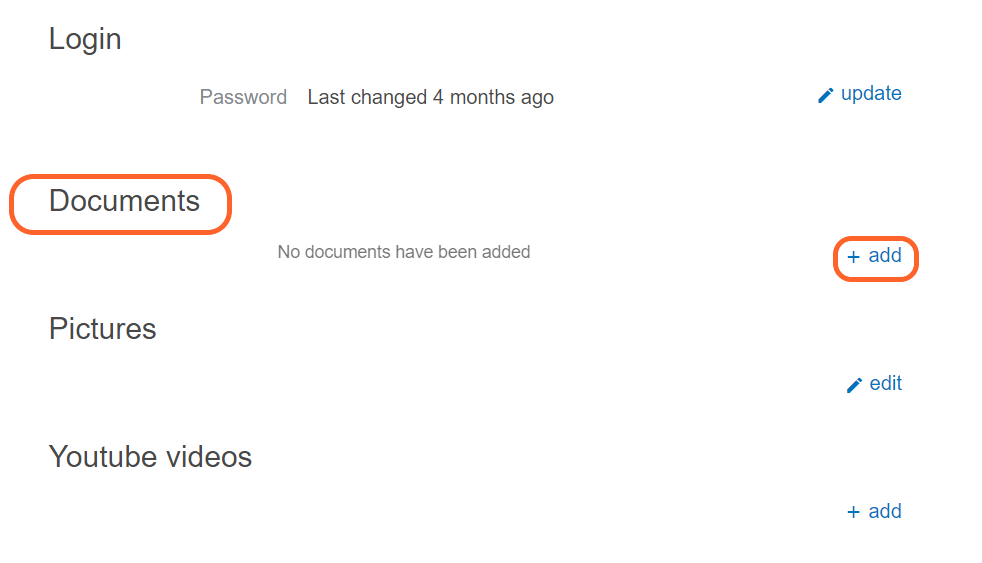 3. Begin the process by uploading the required documentation, selecting the type, and the name corresponding to the name on the document.
If you aren't sure what documents you need to upload, contact the event organizer to confirm.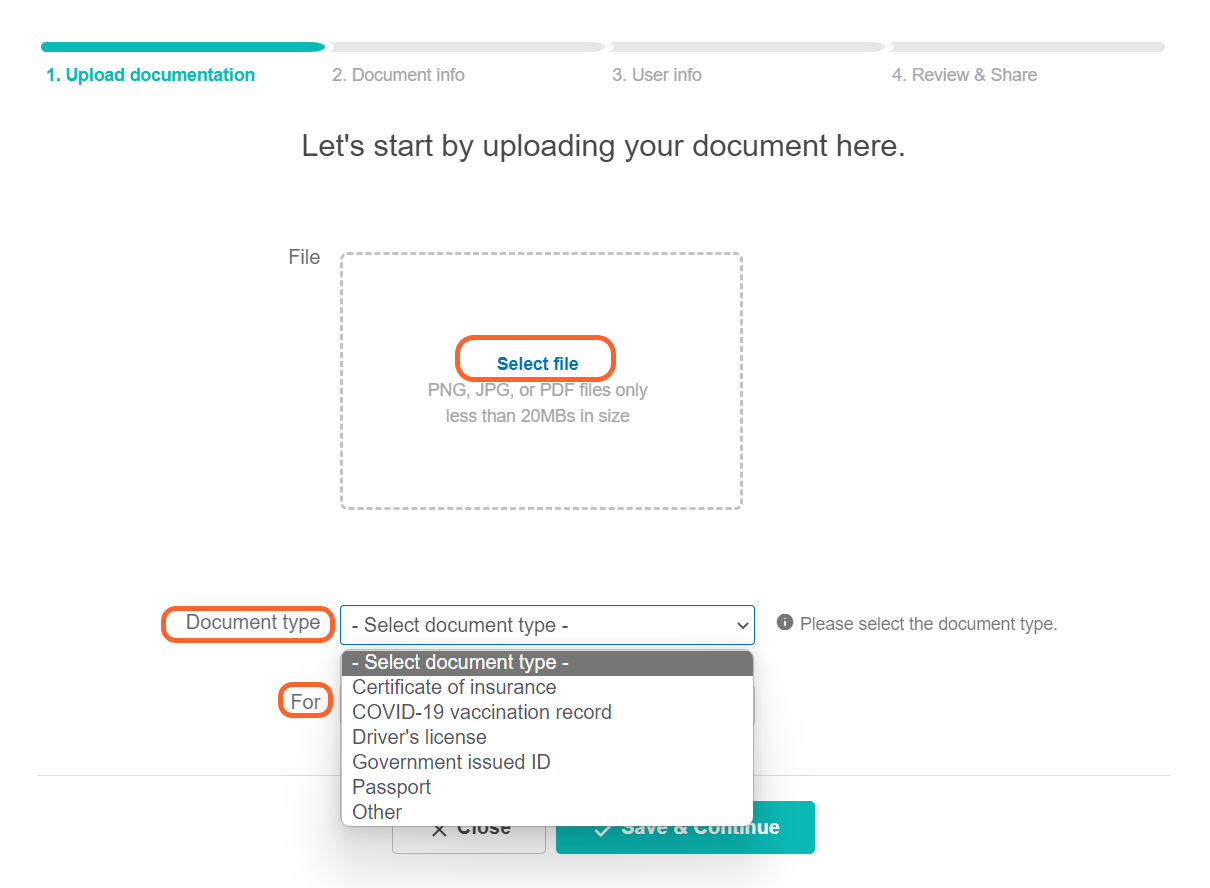 4. Enter the document information such as issuing authority, dates, and document number.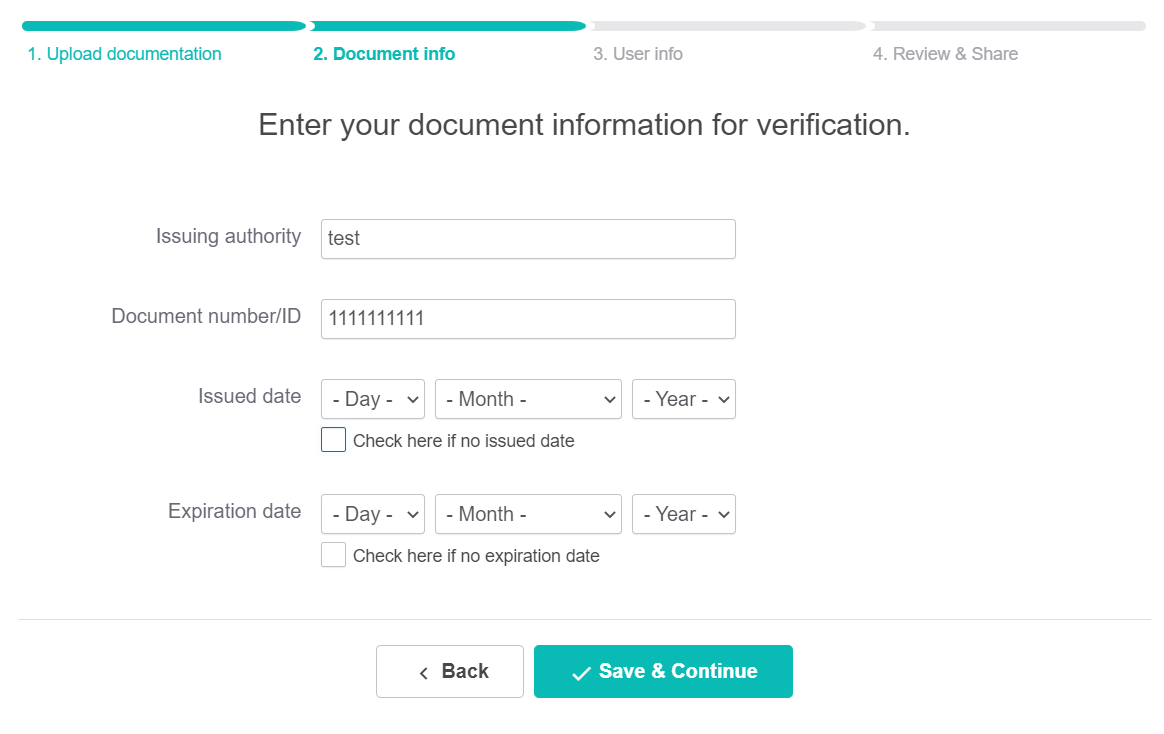 5. Verify your user information and sign at the bottom.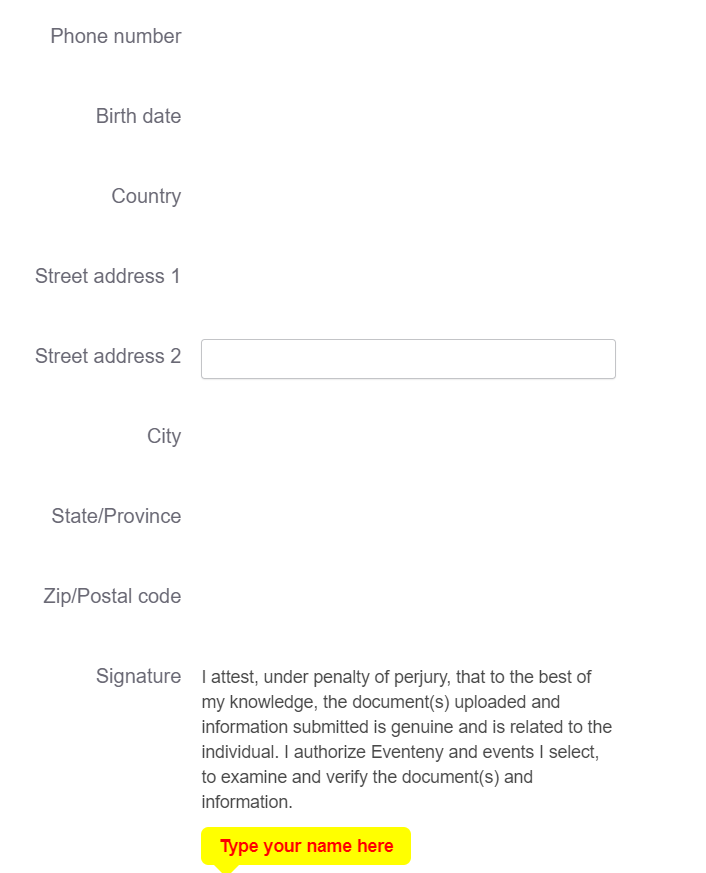 6. Lastly, select the event and ticket you need to submit the documents for. This should correspond to your ticket information. For example, if you purchased a VIP ticket to a Fall Festival, you would select Fall Festival>VIP ticket.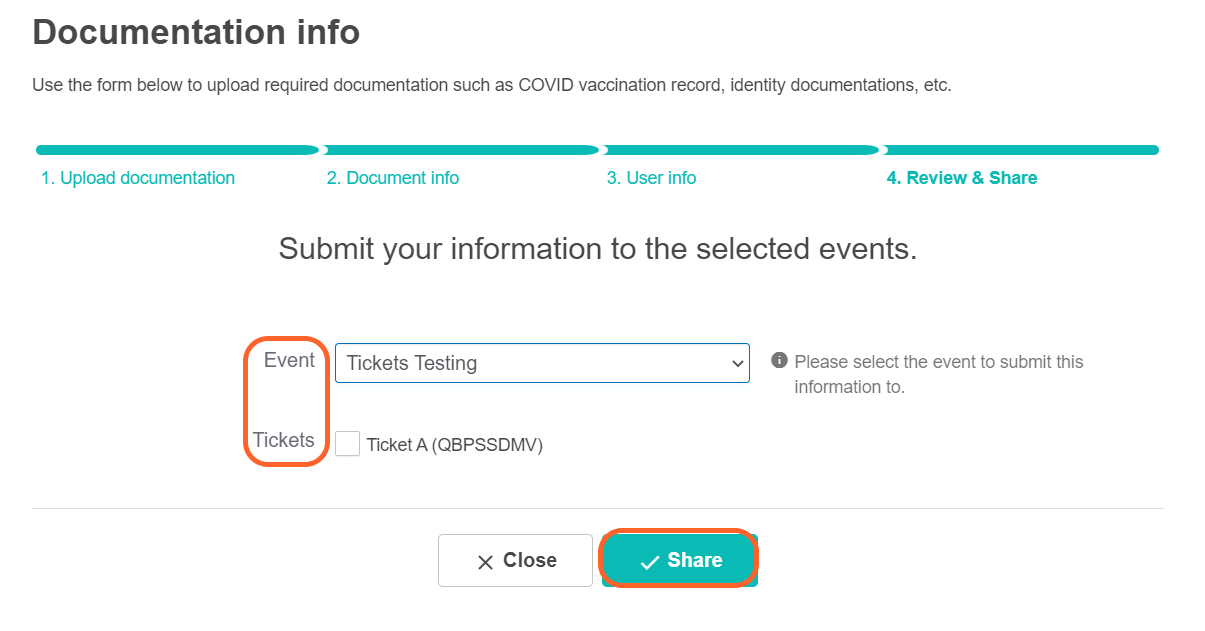 When you are finished, click the blue share button and your documents will automatically send to the event you selected!

Tip from Evee!
If you are submitting this form for someone else, double-check the email confirmation you received after your ticket/registration purchase to match the appropriate ticket code to the user.
DO I NEED TO DO THESE STEPS EVERY TIME I PURCHASE TICKETS TO AN EVENT?
When attending other events in the future that require documentation, documents previously submitted will be automatically saved by Eventeny to your personal profile. You only need to release your documents to the requesting event organizer each time. Here's how:
1. Go to your Personal Information page under Account Settings.
2. Scroll down to "Documents."
3. Click "share with event."
4. Then follow step 6 in the section above to review and share.

Think this article could be improved, or have an idea for a new one? We want to know! Feel free to leave a comment at the bottom of this page or you can contact Eventeny customer support with your juicy ideas!
Need More Help?
If more assistance is needed after reviewing this guide, please contact your event organizer.