Prerequisites: How to Create a Ticket
Find Your Ticket List
1. Make sure you are logged into Eventeny.
2. At the top of the homepage, hover over the "My Events" tab and select the event you wish to work with.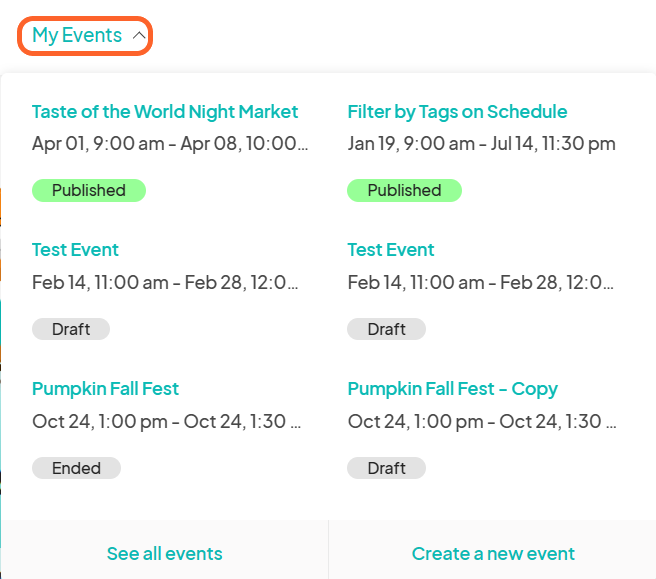 3. This is your event dashboard. On the left sidebar, select "List" under the "Tickets" tab.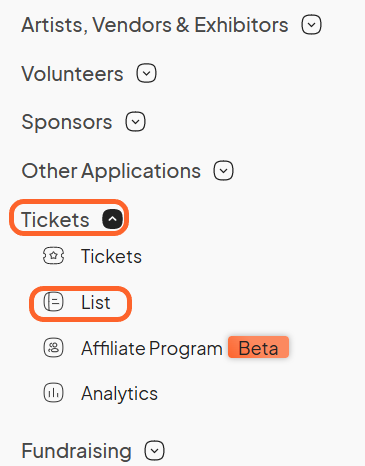 Manage Your Ticket(s)
1. This is your ticket list page. To view each ticket submission's information, select the "view ticket" button written in blue text to the right of the ticket submission of your choice.
2. This is your ticket submission view. This is where you will find all relevant information of the ticket purchaser such as name and email address. Under the "Ticket Details" section, you will find important payment information such as the amount that was charged, order number, payment source (card, cash, etc.)
3. If the purchaser paid by card, scroll down to see their payment information and obtain the receipt by clicking the code written in blue text to the right of it.
4. To the right of the ticket window, under "Options" you will find three payment related options to choose from: switch ticket, add to order, and refund/cancel.
Switch Ticket
1. Switch ticket functions exactly how it sounds. If a ticket buyer wants to switch their ticket to another one of your offers, you can switch it for them for a cost difference at their request. Simply select the new ticket, and the cost difference will be shown. Once everything looks accurate, go ahead and click the blue "Switch Ticket" button.
Add to Order
1. This option allows you to add extra tickets or ad-ons to the ticket buyer's order at their request. This is also a popular option if you want to issue complimentary tickets. Select the "Tickets" or "Ad-ons" tab and select the quantity you want to issue.
2. Next, input the ticket buyer's information, payment type, and select if you want to check in the tickets or not (for on the day of the event).
3. The payment information such as the price, fees, tax, and total will populate at the bottom, followed by a credit card information prompt.
When you are finished filling everything out, click the blue "Issue Tickets" button at the bottom.
Refund/Cancel
We have an entire article dedicated to issuing refund to ticket buyers! You can take a look at it here.
Think this article can be better or have an idea for a new one? We want to know! Please feel free to leave a comment at the bottom of this page or contact Eventeny customer support with your juicy ideas!
Recommended Next Steps:
Learn about the payments and invoicing solution for vendors, sponsors, and other applicants
Learn about discount codes and affiliates
Learn more about the Ticketing solution on Eventeny