Summary of Ticket Reselling
In a Nutshell
The ticket reselling feature affords event organizers the ability to have their tickets resold by their attendees in the event that they cannot make it to the event. This is beneficial because it takes away the task of either refunding attendees or explaining to them that you don't offer refunds. Fortunately, the ticket reselling feature also does not allow for price gouging.
How to Access this Feature
Create or edit an already existing ticket.
Click the ✎ icon at the top right.
Scroll down until you see, "Allow Reselling."
How to Use this Feature
Toggle the "Allow Reselling" toggle to on. It should turn blue.
Scroll back up to the top of the edit ticket page and click "Save."
Want to learn more about ticket reselling? Continue to the full article below!
Getting Started
1. Make sure you are logged into Eventeny.
2. At the top of the home page, hover over the "My Events" tab and select the event you wish to work with.

3. This is your event dashboard.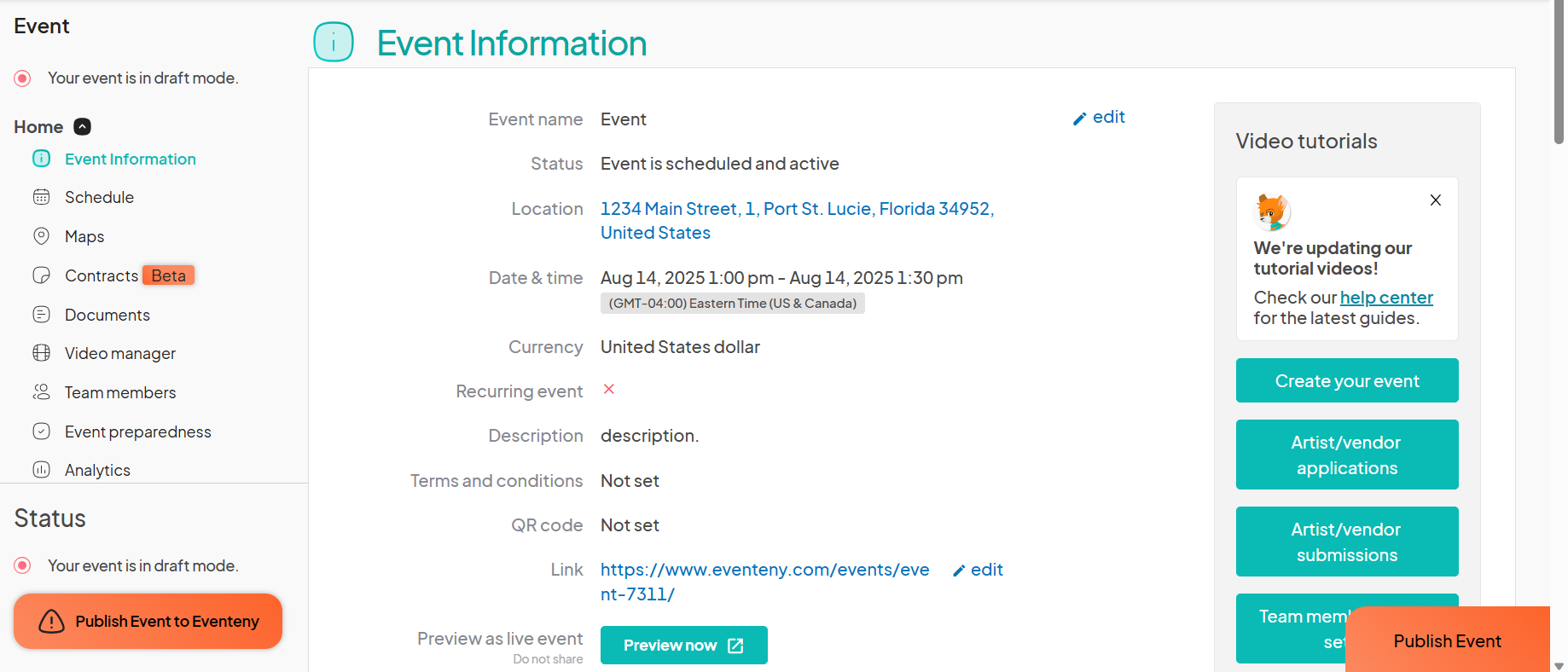 Enabling Ticket Reselling
1. On the left side bar, select Tickets>Tickets.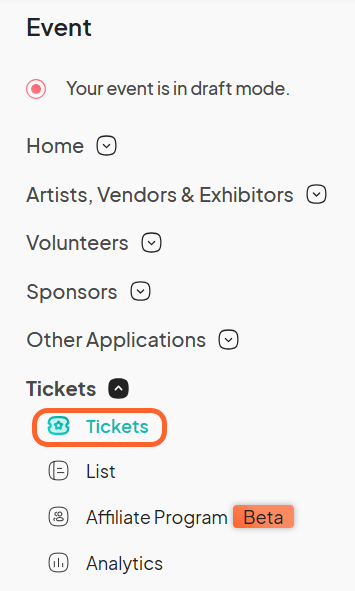 2. If you have already created a ticket and you'd like to enable Ticket Reselling, simply click the blue "Edit Ticket" button. If you are creating a new ticket or your first ticket, click the blue "+ New Ticket" button at the top right corner of the tickets page. Each option will take you to the same page to enable ticket reselling.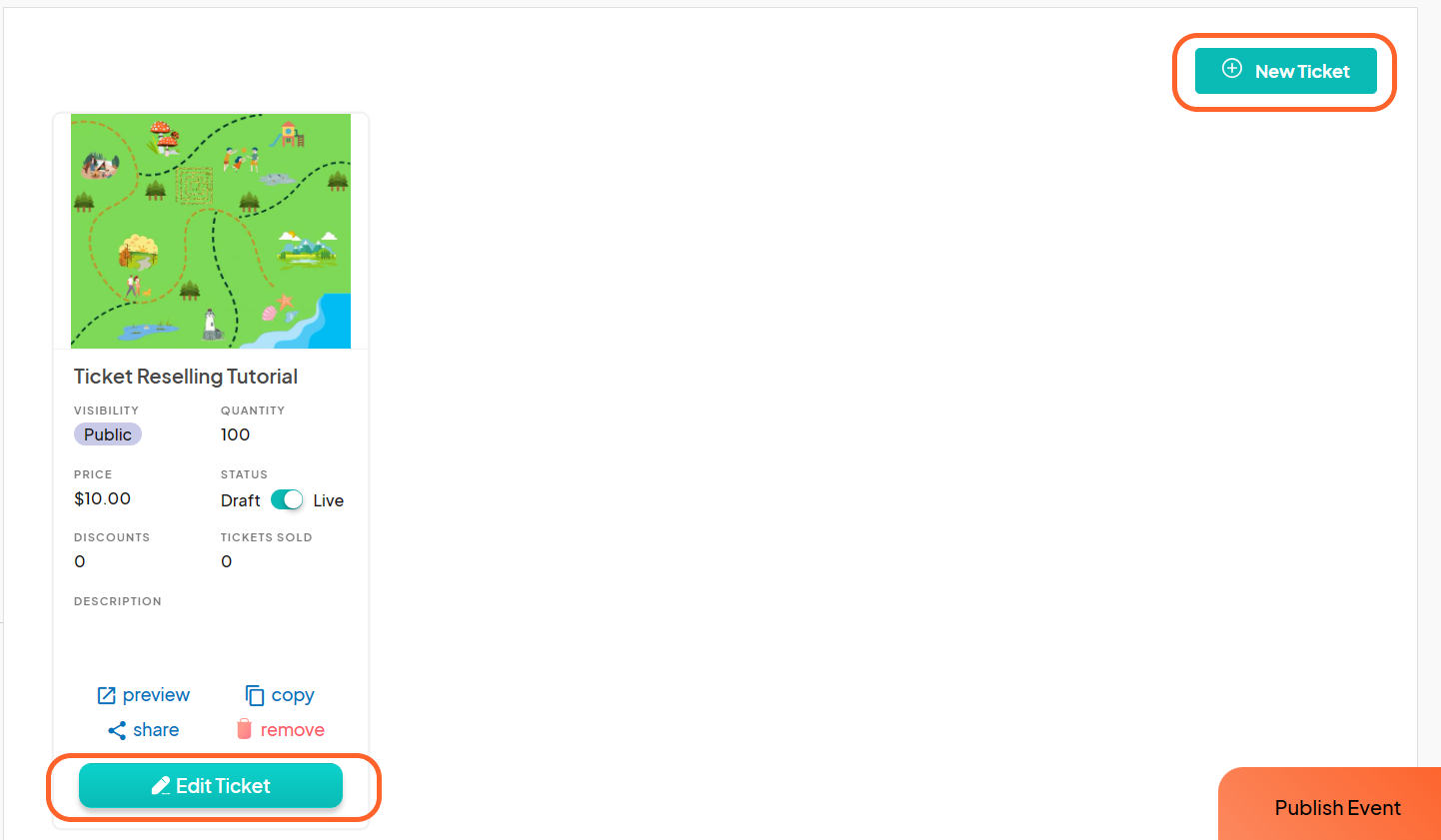 3. When you are in the ticket editing/creation page select the ✎ icon at the top right. If you are creating a new ticket, this will already have been done for you.

4. Scroll down a little bit until you see the "Allow Reselling" section. It should be right under the "Primary Contact" section.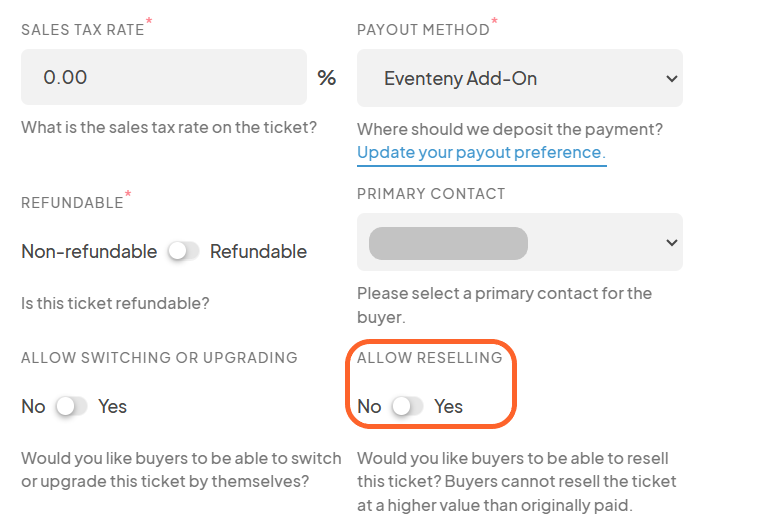 5. To enable ticket reselling, simply toggle the toggle to on. It should turn blue.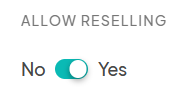 6. When you are finished, scroll back up to the top and click "Save."

A Resource to Provide Your Attendees
Feel free to provide this article here to your attendees once they purchase a ticket to your event. Should they not be able to attend, this article provides a step-by-step guide on how they can go about reselling their tickets to another ticket buyer.