Prerequisites: Create a Ticket
After you have created your ticket(s) and your event is live, you will likely start receiving ticket purchases. You can view ticket purchase information via the ticket list on your event dashboard.
This is where you can take a look at your ticket buyers, send them messages, issue refunds when necessary, and review some basic statistics like purchase amount and types of tickets purchased.
Find Your Ticket List
1. Make sure you are logged into Eventeny.
2. At the top of the homepage, hover over the "My Events" tab and select the event you wish to work with.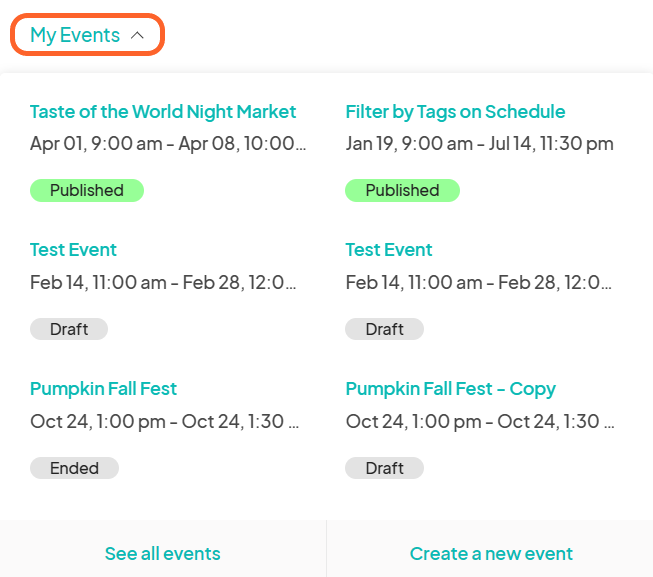 3. This is your event dashboard. On the left sidebar, select "List" under the "Tickets" tab.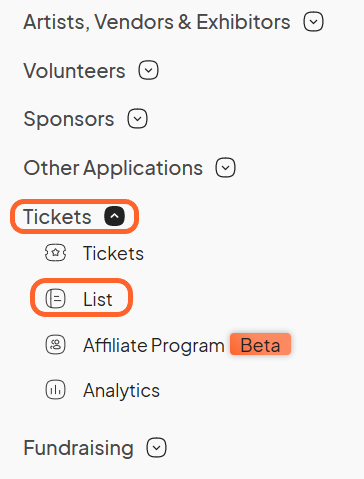 View and Manage Your Ticket List
1. This is your ticket list page, where all of your ticket buyers will populate. You can search for specific ticket buyers by using the search bar or the filters drop down menu.
2. Under the "Options" drop down menu, you can perform five different tasks:
Export: Allows you to export the list into an Excel spreadsheet.
Issue Ticket: Allows you to manually issue a ticket rather than someone doing it themselves.
Group Message: Allows you to group message all or some of your ticket buyers.
Manage Tags: Allows you to manage already existing tags that are applied to your ticket buyers. To learn more about the tagging feature, check out this article.
Bulk Ticket Import: Allows you to import ticket submissions in bulk via an Excel spreadsheet to Eventeny. To learn more about the bulk import feature, check out this article.
3. The ticket buyer list is categorized by different columns at the top like ticket status, amount purchased, ticket type, and more.
4. Under the "Action" column, you have three different options:
View Ticket: Allows you to view the ticket information (more on this below!).
Send Message: Allows you to send the ticket buyer a message.
Resend Ticket Confirmation: Allows you to resend the buyer's ticket information to their email.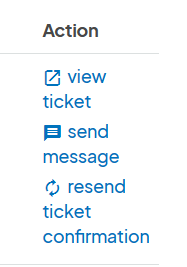 View Ticket Information
1. When you click on the "view ticket" written in blue text to the right of each ticket buyer, a separate window will pop up showing you various information:
Ticket: Shows the QR code, ticket type, if it is active, date of purchase, and an option to print the submission.
Attendee Information: Shows the ticket buyer's name and email address, which can be edited if needed.
Ticket Details: Shows details about the ticket itself such as the location, date of the event, amount charged, confirmation code, order number, payment method, and seat (if applicable).
Tags: Allows you to add an existing tag to the ticket buyer or create a new one.
Options: The blue "Check in" button allows you to check in attendees (ticket buyers) on the day of the event as they arrive. To learn more about the options below, check out this article (ticket payments).
Payment Information: Shows the type of credit card they used as well as the ending four numbers. You may also notice a code written in blue text which is the ticket receipt.
Think this article can be improved or have an idea for a new one? We want to know! Please feel free to leave a comment at the bottom of this page or contact Eventeny customer support with your juicy ideas!